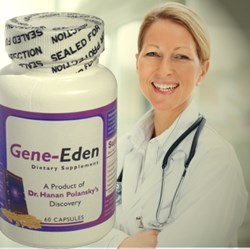 "Regardless of how someone acquires an oral HPV infection, once they have it, they need a remedy. We recommend Gene-Eden-VIR." – Mike Evans, polyDNA
Rochester, NY (PRWEB) January 19, 2014
Poor oral health and bad hygiene contributes to the persistence of oral HPV. Study authors wrote that "Our findings suggest that poor oral health is an additional risk factor for oral HPV infection…oral health is a risk factor over and above smoking and having multiple oral sex partners (1)." In addition, the authors noted that "Oral infection by high-risk (i.e. oncogenic) human papillomavirus (HPV) types, predominantly HPV-16, is an established cause for 40% to 80% of oropharyngeal (mouth and throat) cancers in the United States (1)."
"We recommend that everyone get tested for latent HPV, and for those with an latent oral HPV infection, we also recommend Gene-Eden-VIR. This natural product was clinically proven to reduce symptoms of a Human Papillomavirus infection in a study that followed FDA guidelines." - Mike Evans, polyDNA
Researchers found that poor oral hygiene and bad oral health, "measured by such indicators as frequency of tooth brushing or tooth loss, are also recognized risk factors for oral and oral pharyngeal cancers, both independently and synergistically with tobacco and alcohol use (1)."
In addition to poor oral health, and the risk factors listed above, "Being male, smoking, drinking alcohol, using marijuana, having lifetime experience of oral sex and having multiple lifetime and past year oral sex partners were significantly associated with increased likelihood of oral HPV infection (1)."
How does poor oral health increase the risk for an oral HPV infection?
"To infect the oral cavity (mouth), HPV enters the basal layer (outer layer) of epithelium through epithelial wounds. Poor oral health, which may include ulcers (a break in the mouth's mucus membrane), mucosal disruption, or chronic inflammation, may increase susceptibility to and infectiousness of HPV (1)." Poor oral health can create openings in the skin of the mouth where the virus can then enter.
"Regardless of how someone acquires an oral HPV infection, once they have it, they need a remedy. We recommend Gene-Eden-VIR." – Mike Evans, polyDNA
People infected with the latent HPV virus can ask their doctors about Gene-Eden-VIR, or they can go online to learn more about the product. Gene-Eden-VIR is a safe, natural product that was proven to reduce HPV symptoms in a clinical study published in the peer reviewed, medical journal Pharmacology & Pharmacy, in a special edition on Advances in Antiviral Drugs on August 12, 2013.
The study showed that Gene-Eden-VIR reduced HPV symptoms and was safe and effective (2). "Up to 70% of those studied reported a decrease in HPV symptoms (2)."
Each ingredient of Gene-Eden-VIR was chosen through a scientific approach. Scientists scanned thousands of scientific and medical papers published in various medical and scientific journals around the world to identify the safest, most effective natural ingredients that target the latent form of HPV (2).
Doctors can view the paper on Gene-Eden-VIR here: http://gene-eden-kill-virus.com/PP_Gene-Eden-VIR-is-Antiviral.pdf.
To learn more about Gene-Eden-VIR and HPV, visit http://gene-eden-kill-virus.com/HPV-Remedy.php. All orders of Gene-Eden-VIR are completely confidential, and no information is shared or sold to any third party. Privacy is assured.
Reference:
(1) Examining the Association between Oral Health and Oral HPV Infection. Published on August 21, 2013.
http://cancerpreventionresearch.aacrjournals.org/content/early/2013/08/20/1940-6207.CAPR-13-0081.full.pdf+html
(2) Gene-Eden-VIR Is Antiviral: Results of a Post Marketing Clinical Study. Published on August 12, 2013.
http://gene-eden-kill-virus.com/PP_Gene-Eden-VIR-is-Antiviral.pdf
polyDNA is a biotechnology company that develops dietary supplements using the unique scientific method developed by Dr. Hanan Polansky, which is based on Computer Intuition.
In addition to his unique scientific method, Dr. Polansky published the highly acclaimed scientific discovery, called Microcompetition with Foreign DNA. The discovery explains how foreign DNA fragments, and specifically, DNA of latent viruses, cause most major diseases.
polyDNA developed Gene-Eden-VIR , an antiviral natural remedy that helps the immune system kill latent viruses.