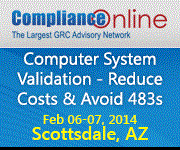 ComplianceOnline Announces Seminar on Computer System Validation
Palo Alto, CA, USA –
January 9, 2014 (PRWEB) January 12, 2014 -- ComplianceOnline, the leading governance, risk and compliance advisory network with over 500 experts in various regulatory subjects, today announced a seminar on Computer System Validation - Reduce Costs and Avoid 483s. The two day seminar led by regulatory affairs expert David Nettleton will be held on February 6-7, 2014 in the Scottsdale, AZ.
Lack of proper system validation is one of the major reasons for Warning Letters and 483s in most of the FDA regulated industries. This two day seminar will provide tools needed to develop and implement effective computer system validation processes to gain maximum productivity and reduce cost by as much as two thirds.
For more information or to register for the seminar, please click here.
Seminar instructor David Nettleton is an industry leader, author, and teacher for 21 CFR Part 11, Annex 11, HIPAA, software validation, and computer system validation. He is involved with the development, purchase, installation, operation and maintenance of computerized systems used in FDA compliant applications. He has completed more than 230 mission critical laboratory, clinical, and manufacturing software implementation projects.
During the two day interactive seminar, Mr. Nettleton will discuss proven techniques for reducing costs and time associated with computer system implementation and maintenance in regulated environments. He will explain the latest computer system industry standards for data security, data transfer and audit trails with a 10-step risk-based approach to computer system validation. The seminar will give the attendees an understanding of how 21 CFR Part 11 and HIPAA electronic security regulations for patient medical records fit into the validation process. He will also discuss recent FDA trends and how to streamline SOP authoring, revision, review, and approval.
The seminar will be beneficial for regulatory, clinical and IT professionals working in healthcare, clinical trial, biopharmaceutical and medical device sector that uses computer systems to perform their job functions. It will provide valuable guidance to Regulatory Affairs personnel, OA/QC personnel, IT/IS personnel, Software Managers, Project Managers, Software vendors and suppliers on effective computer system validation.
Date: Thursday, February 6 and Friday, February 7, 2014, 8.30 AM- 4.30 PM
Venue & Location: Scottsdale Marriott Suites, AZ
Registration Cost: $1,699.00 per registration
Early bird discounts: For discounts on early registrations, please click here.
Register by phone: Please call our customer service specialists at +1-650-620-3937 or email to customercare(at)complianceonline(dot)com
For more information on ComplianceOnline or to browse through our trainings, please visit our website.
About ComplianceOnline
ComplianceOnline is a leading provider of regulatory compliance trainings for companies and professionals in regulated industries. ComplianceOnline has successfully trained over 35,000 professionals from 9,000 companies to comply with the requirements of regulatory agencies. ComplianceOnline is headquartered in Palo Alto, California and can be reached at http://www.complianceonline.com. ComplianceOnline is a MetricStream portal. MetricStream (http://www.metricstream.com/) is a market leader in Enterprise-wide Governance, Risk, Compliance (GRC) and Quality Management Solutions for global corporations.
For more information please contact:
A Reuben Bernard
Manager of Program Marketing
ComplianceOnline
2600 E Bayshore Rd
Palo Alto CA USA 94303
650-620-3937 phone
650-963-2530 fax
reuben(at)complianceonline(dot)com
http://www.complianceonline.com