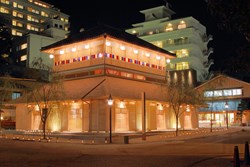 Kaga Hakusan, Hokuriku (PRWEB) January 22, 2014
The high speed Hokuriku Shinkansen Line between Nagano and Kanazawa, which is scheduled to start operation from spring of 2015, will cut the time of journey between Tokyo and Kanazawa to around 2 and a half hours, making it easier to visit the popular historical Kaga Onsen hot spring resorts. Travelling by airplane has been the best way to get to the hot springs so far. It takes more than 4 hours to the area from Tokyo by ordinary express train. After the opening of the new Hokuriku Shinkansen Line, the train ride to the hot springs from Tokyo will be a total of 3 hours and a half, including 1 hour from Kanazawa Station to Kaga Onsen Station. Not only Tokyo, the Hokuriku Shinkansen will provide easy access from other major cities such as Osaka, Kyoto as well. Most hotels at the hot spring resorts provide transportation service from Kaga Onsen Station, offering more convenience for travelers to experience the real Japan.
About Kaga Hakusan
The Kaga Hakusan area in the Hokuriku region in south-western Ishikawa Prefecture is blessed with grand nature and natural hot springs. It is famous for its traditional arts and crafts, such as Yamanaka lacquerware and Kutaniyaki ceramic ware, crafts that flourished in the beginning of the Edo era (1603-1867) and is still prominent today. Various sports and activities are offered all year round. From spring to autumn, climbing, hiking, biking, paragliding, and golfing are available. In winter, skiing is popular. The area is also famous for its local cuisine of seafood freshly caught in the Sea of Japan and traditional dishes prepared with food from the foot of Mt. Hakusan.
For more information, please visit http://www.ishikawa-kaga-hakusan.jp/index.html.
About Kaga Onsen
Kaga Onsen is a collection of four hot spring towns, which includes Yamashiro, Yamanaka, Katayamazu, and Awazu, not far from Mt. Hakusan in the Hokuriku region in south-western Ishikawa Prefecture. The hot springs were discovered over 1300 years ago by monks visiting Mt. Hakusan, one of Japan's "three holiest mountains". They have been popular and highly rated hot spring resorts since the ancient times.
A characteristic of Kaga Onsen's hot spring towns are their public baths (soyu), which are found in the center of each town. In the past, when not all hotels had their own baths, staying guests would visit the soyu instead. These communal baths remain popular among visitors and residents alike, and can present tourists with a unique, local bathing experience.
For more information, please visit http://www.ishikawa-kaga-hakusan.jp/onsen.html.