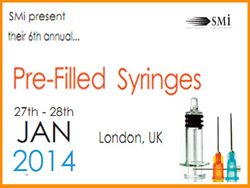 The meeting improves each year and should become a fixed date on the calendar for anyone interested in pre-filled syringes.
London, UK (PRWEB UK) 10 January 2014
EU member states passing national legislation for the prevention of needle stick injuries right now. This comes on the back of EU Council Directive (2010/32/EU), which took effect in May. This legal driver for the adoption of safe alternatives to traditional injections makes developing an effective, compliant pre- filled syringe or injection device ever more important. To help you make the right decisions in your product development, SMi are holding the 6th Annual Pre-Filled Syringes conference and exhibition this January.
Event's website: http://www.smi-online.co.uk/2014pfs25.asp.
There are only 2 weeks left before Pre-Filled Syringes Conference opens its doors to leading experts from big pharma companies including Pfizer, GSK, Merck & Co, Ipsen, Novo Nordisk and many others, to discuss how to overcome key challenges in your syringe and injection device development, including development of injection devices for biologics, minimising extractables and leachables within legislated guidelines and developments in fill, finish and inspection technologies.
Key Presentations Include:
Quality by design in the manufacture of pre-filled syringes
Advait Badkar, Associate Research Fellow, Technology Lead, Pfizer
Merck case study: Introduction of a prefilled diluents syringe for preparation of a complex product
Robert Schnepf, Molecule Leader, MPD CoE, Merck & Co.
Leachables and safety considerations in pre-filled syringes and cartridges: Impact on drug product quality and safety profile for biologics
Joel Richard, Vice President Peptides, Ispen
Development of HCLF Biologics in pre-filled syringes
Patrick Garidel, Associate Director Protein Science, Boehringer Ingelheim
Plus - Don't miss two post-conference interactive workshops:
A. Leachables and Extractables. Andrew Fieldon, Senior Consultant, Smithers Rapra
B. Large Volume Injectors- Technologies, Strategies and Guidance. Stephen Augustyn, Head of Mechanical Engineering, Team Consulting
Sponsorship Information
Pre-Filled Syringes - 2014 is proud to be sponsored by BD, Schott, Owen Mumford, West, VJ Electronix, Schreiner MediPharm, Nolato Medical, Astech Projects and Zeon. To learn how you can benefit from our event and introduce your company and its services to a key decision-makers in the industry, contact Alia Malick, Director, via amalick(at)smi-online(dot)co(dot)uk you call +44 (0) 207 827 6168.
Registration Information
Register online here http://www.smi-online.co.uk/2014pfs25.asp or contact Fateja Begum on +44 (0) 20 7827 6184 or email via fbegum(at)smi-online(dot)co(dot)uk.