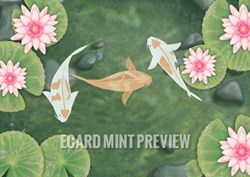 China's growth over the last decade has given businesses the incentive to pay more attention to what's going on outside their own front door.
London, UK (PRWEB) January 14, 2014
Ecard Mint, an ecommerce site that specialises in the design of professional and effective ecards for business purposes, has introduced a new category with several new designs celebrating Chinese New Year.
The Teddington-based company have added the category to provide users of the site the ability to create customisable greetings for associates celebrating the Chinese New Year. The expansion of the range has also been implemented in acknowledgment of the country's growing economic influence in the business world.
According to the BBC, China is the world's fasting growing economy and overtook Japan in 2011 to become the world's second largest economy, leaving only America with a higher nominal gross domestic product (GDP).
The International Monetary Fund also provides figures which show that China has averaged an impressive yet consistent growth rate of 10% over the last 30 years.
Owner and Managing Director of Ecard Mint, Nick Hellman comments: 'Chinese New Year is such an important date in the Chinese calendar that we wanted to give our customers the opportunity to share in the celebrations. And China's growth over the last decade has given businesses the incentive to pay more attention to what's going on outside their own front door.'
Nick Hellman adds: 'We're constantly building on our card categories to provide more choice for a diverse global marketplace. Our goal is to give our customers the chance to cement good business relationships by sharing in the traditions and customs of international clients and partners.'
In 2014, New Year falls on the 31 January and will mark the year of the horse in the Chinese zodiac. Festivities culminate in the Lantern Festival on the 15th day of the first month.
Within the new category, designs added to the corporate ecard site will include: a tableau scene of the Lantern festival over a traditional Chinese skyline, a serene animated koi pond, a retelling of the legend of the Nian and an ecard representing the accustomed ritual dragon dance which is said to ward off evil and bring good luck for the rest of the year.
ABOUT
http://www.ecardmint.com is a provider of bespoke business ecards with over five years' experience in the industry. Based in Teddington, the company was launched under Katie's cards http://www.katiescards.com/ to offer a specialist B2B service for corporate greetings and marketing communications. For more information, follow Ecard Mint on Twitter and LinkedIn.
CONTACT
Telephone: +44 (0)20 8274 2069
Email: info (at) ecardmint (dot) com
Copyright information: This article is free for reproduction but must be reproduced in its entirety, including live links & images; this copyright statement must be included.