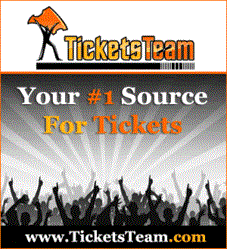 Fortunately, while there isn't too much time to spare, they can still get Fall Out Boy 2014 'Monumentour' tickets today at an amazing price through TicketsTeam.com.
Hartford, CT (PRWEB) January 21, 2014
Launching June 19 in Hartford, CT, Fall Out Boy's "Monumentour" tour will include concerts in Dallas, Phoenix, Oklahoma City, Tampa and other major cities. Featuring 33 stops in the USA, the tour ends August 17, 2014 in Concord, CA. Fall Out Boy tour tickets are available for sale now at TicketsTeam.com.
Full schedule for Fall Out Boy & Paramore 2014 summer tour concerts:
June 19: Xfinity Theatre in Hartford, CT;
June 21: Nikon At Jones Beach Theater in Wantagh, NY (nearby New York);
June 22: Xfinity Center in Mansfield, MA (nearby Boston);
June 24: Saratoga Performing Arts Center in Saratoga Springs, NY (nearby Albany);
June 25: Molson Canadian Amphitheatre in Toronto, ON;
June 27: Susquehanna Bank Center in Camden, NJ (nearby Philadelphia, PA);
June 28: PNC Bank Arts Center in Holmdel, NJ;
June 30: Bank of New Hampshire Pavilion At Meadowbrook in Gilford, NH;
July 2: Darien Lake Performing Arts Center in Darien Center, NY (nearby Buffalo);
July 3: First Niagara Pavilion in Burgettstown, PA (nearby Pittsburgh);
July 6: Verizon Wireless Amphitheater in Maryland Heights, MO (nearby Saint Louis);
July 8: DTE Energy Music Theatre in Clarkston, MI (nearby Detroit);
July 9: Klipsch Music Center in Noblesville, IN (nearby Indianapolis);
July 11: First Midwest Bank Amphitheatre in Tinley Park, IL (nearby Chicago);
July 12: Sawyer Point (Bunbury Music Festival) in Cincinnati, OH;
July 18: Merriweather Post Pavilion in Columbia, MD;
July 19: The Star Pavilion At Hersheypark Stadium in Hershey, PA;
July 22: Farm Bureau Live in Virginia Beach, VA;
July 23: PNC Music Pavilion in Charlotte, NC;
July 25: Cruzan Amphitheatre in West Palm Beach, FF;
July 26: MidFlorida Credit Union Amphitheatre in Tampa, FL;
July 29: Walnut Creek Amphitheatre in Raleigh, NC;
July 30: Aaron's Amphitheatre in Atlanta, GA;
August 1: The Cynthia Woods Mitchell Pavilion in Spring, TX (nearby Houston);
August 2: Austin360 Amphitheater in Austin, TX;
August 4: Concrete Street Amphitheater in Corpus Christi, TX;
August 5: Gexa Energy Pavilion in Dallas, TX;
August 7: Isleta Amphitheatre in Albuquerque, NM;
August 8: Ak-Chin Pavilion in Phoenix, AZ;
August 10: Oklahoma City Zoo Amphitheatre in Oklahoma City, OK;
August 12: Red Rocks Amphitheatre in Morrison, CO (nearby Denver);
August 13: The UCCU Center in Orem, UT;
August 16: Verizon Wireless Amphitheater in Irvine, CA;
August 17: Sleep Train Pavilion in Concord, CA.
Usually considered to be a pop-punk band, Fall Out Boy has also been mentioned as pop rock and emo. They cite emo group The Get Up Kids as an influence among many other bands. Lead singer Patrick Stump was influenced by artists such as Michael Jackson, Prince and David Bowie. Fall Out Boy's albums "From Under the Cork Tree" and "Take This to Your Grave" are said to have pop-punk as well as punk-rock sounds and influences, and "Infinity on High" includes a wide range of music styles and instrumentation, including choral and orchestral arrangements and even a slower piano ballad. R&B influences are felt on "Infinity on High" songs such as "This Ain't a Scene, It's an Arms Race". A couple of the album's tracks are produced by R&B singer/producer Babyface. Fall Out Boy continues to evolve their sound on On Folie à Deux with less of a pop-punk sound and increasing the use of synthesizers, piano and adding guest artists. The band has worked with numerous producers and artists, including Timbaland, Lil Wayne, The Neptunes and Kanye West.
Paramore first received attention after their debut album "All We Know is Falling", and after they were featured on the Van's Warped Tour. Their second album "Riot" was met with rave reviews, with Rolling Stone naming the group "one to watch." The album also sold over 40,000 copies in its first week of release in the United States alone. In 2008, the band was nominated for a Grammy for Best New Artist, losing to songstress Amy Winehouse. In between album recordings, the band toured, and released a live CD entitled The Final Riot! and contributed "Decode," a lead song to the Twilight film soundtrack. In 2009, the band joined pop-punk favorites No Doubt on their tour, in both the United States and Canada. The third album "Brand New Eyes" was released the same year. Paramore continued touring with a 15 stop tour in Europe, entertaining more than 12,000 fans one night in London.
Fall Out Boy & Paramore 2014 tour tickets are going to be a hot ticket this summer, and tickets are available for a limited time at TicketsTeam.com.
TicketsTeam.com is not affiliated with Fall Out Boy, Paramore, their management teams, nor 'Monumentour' tour venues, and is merely a ticket marketplace.