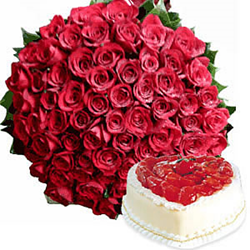 Noida (PRWEB) January 12, 2014
With extensive research on what women crave for on Valentine's day, Indian Gifts Portal has gathered together a unique list of beautiful Valentine gifts for her which will definitely incite the passion in them and evoke their romantic senses. Even with the trend that the market is brimming with new gifts which are growing numbers every year, women are still inclined towards those gifts which were present decades ago.
Weekend Getaway
The majority women cited a romantic weekend getaway with their man as the ultimate Valentine fantasy. Due to the hectic work schedules and the de-synchronization of work timings, a relaxed weekend getaway to the nearest resort can be a breath of fresh air to all the couples. Most men are oblivious of the fact that relaxation of the senses is much more passionate than fulfilling material obeisance for their loved ones. For those people who are located in the proximity of a popular holiday destination, then opting for a romantic getaway will be the best choice.
Jewelry
From the girls who specified their desires and cravings on a Valentine's day, most of them quoted jewelry as the ultimate gifts which will satiate them. Anything that is trending in the market or the traditional engagement ring proposal can pose as a good wedding gift for most women as jewelries denote affinity and love before it is represented by its price tag. For the men are planning to propose to their girlfriend this Valentine's day, then opting for a diamond engagement ring or family ring can be the best choice.
Chocolates, Flowers, and Perfumes
Parting with a package consisting these three choices of chocolates, flowers, and perfumes as a Valentine gift can be a deft combination of presents which will definitely impress all the women. Due to the pretty flower, the sensual perfume and the tasty beautiful heart shaped chocolates, the combination of these three gifts is a wise choice for all the men out there. IGP has revised their gifts collection so that all its customers can be availed with the most beautiful flowers, chocolates and perfumes gifts for the upcoming Valentine's occasion.
Lingerie
Valentine's day is definitely one occasion where the sensual mood is heightened in partners and the passion for each other is out of bounds. In such situations, opting for lingerie can be a good option as they are intricately designed to incite desire into the man. This pleasure of visualization has certainly been appreciated by most women. But for those men out there who have just had a date or two with their loved ones, opting for lingerie can be misrepresented as an inappropriate sexual overture.