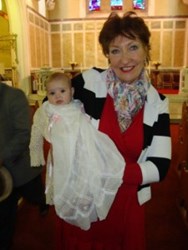 Christobel runs her Encore Business on line, it took a bit of learning but it was worth it.
(PRWEB) January 20, 2014
Grandma's Delights has researched encore careers and how to promote them on the internet for grandparents and baby boomers in a new guide on its website. The great revolution they say is that the next generation of retirees will be the first who are fully computer literate. They will therefore be able to promote their businesses locally, nationally or internationally, from the comfort of their own home.
They found that if this generation of baby boomers are likely to live for another 30 years after official retirement, they will not only need to supplement their incomes but keep their brains engaged.
As the first generation that has the opportunity of having a greatly extended life expectancy, they will need to reinvent the retirement scenario. "This will not be hard," says Grandma's Delights editor Christobel Edwards. "As a generation we have changed the role of women, changed attitudes to racial and sexual differences and much more. Now we need to change attitudes to the elderly and retirement!"
What makes the difference now is that it is easier to promote hobbies and career expertise via the internet. The problem being that the internet is increasingly tricky to succeed at.
The guide recommends some high quality training in internet marketing that is available online, here.
At retirement many will have several sources of inspiration to draw on, providing they are just prepared to think outside the box. Today's retirees will have probably built up a lifetime's expertise in their careers. All that expertise is leaving the market if they give up! How about offering that expertise to the market in the form of online consultancy?
Many will have a hobby that they love, could that be turned into a new career? Looking at the passion's of youth, the sort of thing that at 18, their father's said would not make an income, so they gave up. Again could that passion be revitalized and turned into a business and monetized now?
Whether deciding to try dog walking, secret shopper, or starting to make handmade items. Or using a lifetime's expertise in whatever to start a consultancy, the internet is a friend that can promote services locally, nationally or internationally, whatever suits the business needs.
Edwards says we must however be wary of the get rich quick merchants that haunt the internet. The internet is a science that needs proper training for and some degree of hard work. Apart from the get rich quick merchants, there are also lots of excellent training that although valid, does not cater for the complete beginner.
What is needed is a course that will build the site from scratch and give training on how to promote it, but most importantly teach from the basics up. Better still give ongoing support and advice on the continuing changes in the internet market.
The benefit of an internet business is that at any age people can run it from the comfort of their own home. They can build a reputation for their expertise without going outside the front door. But first they will need to learn how to do it.
All the evidence shows that it is important to keep active in retirement. The uniqueness of having nothing to do, does not last long, there are only so many cruises people can go on, sitting around with nothing to do is not just bad for health and finances, but can put a real strain on relationships.
As Edwards says, even if people have a healthy pension now, 30 years will erode the true value of any income. With an increasingly aging population, no one wants to be in a straightened financial situation when at their most vulnerable old age, now is the time to get busy and have fun.
Grandmas Delights also talks about the excitement of the free university courses that are available on the internet. These Include courses by Yale, Harvard and many internationally renowned universities. One site offers free courses in various aspects of business studies. These courses even come with recognized certification and could then be turned into online services offered from home.
About Grandmas Delights
Grandmas Delights is an award winning site for grandparents and baby boomers. Found at http://www.grandmasdelights.com. The site discusses issues around aging, finance, keeping healthy, travel and grand parenting for the 21st century.