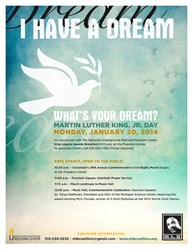 What's Your Dream?
Cincinnati, OH (PRWEB) January 15, 2014
The Martin Luther King Jr. Coalition announces a series of events for Martin Luther King, Jr. Day, Monday, January 20, 2014. This is the MLK Coalition's 39th annual celebration of the holiday in Cincinnati, dedicated to keeping Dr. King's legacy vibrant in our community. The theme for the 2014 events is I Have a Dream, What's Your Dream? The day is filled with opportunities for participation, commemoration and celebration.
The schedule for the day is:
· Ticketed Breakfast sponsored by the National Underground Railroad Freedom Center and the Martin Luther King, Jr. Coalition
· 8:00 a.m. King Legacy Awards Breakfast at the Freedom Center
· 10:00 a.m. Commemorative Civil Rights March begins at the Freedom Center
· 11:00 a.m. Fountain Square, Interfaith Prayer Service followed by march to Music Hall
· 12 p.m. Music Hall, MLK Commemorative Celebration
The events are free and open to the public: Sponsored by the Martin Luther King, Jr. Coalition.
The King Legacy Awards Breakfast is being held at the Freedom Center. The Breakfast features exciting performing arts presentations as well as the recipients of the 2014 MLK, Jr. Dream Awards. Awardees are youth and community leaders who embody the spirit of Dr. King and endeavor to keep his legacy alive. Tickets for the King Legacy Awards Breakfast may be purchased by calling 513-333-7706.
Beginning at 10:30, hundreds of people will gather outside the Freedom Center's Harriett Tubman Theater. After brief remarks and prayers, marchers will proceed to Fountain Square for an interfaith prayer service. The march, which commemorates the civil rights marches led by Dr. King and many others, will proceed to Music Hall. Metro's Rosa Parks Bus, dedicated to the spirit of Mrs. Parks, will participate in the march, providing limited seating for those unable to make the 1-mile walk from the Freedom Center to Music Hall. Many area religious leaders will participate during the march and later at Music Hall. The Commemorative Celebration begins at noon at Music Hall. The 2014 keynote speaker is the Dr. Tonya Matthews. Several area youth choirs will provide an exciting addition to the annual Martin Luther King, Jr. Chorale music program under the direction of Bishop Todd O'Neal and Steve Milloy.
All events except the Legacy Awards Breakfast are free and open to the public. For more information visit http://www.mlkcoalition.org or contact Keeyana Hall at keeyana(at)agencysevenpr(dot)com.