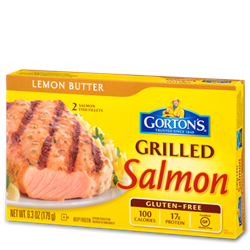 "The 'Real Fabulous' promotion lets us share the news of our Grilled product line and the many ways incorporating Grilled fish into your diet can help you look and feel your best, while also giving consumers a chance to win a wardrobe makeover."
Gloucester, MA (PRWEB) January 10, 2014
The crew at Gorton's Seafood is kicking off 2014 with a sweepstakes that consumers are sure to feel fabulous about. The Gorton's "Real Fabulous" Sweepstakes highlights Gorton's 11 varieties of 100 calorie or less gluten free Grilled Fish items and the health benefits offered by incorporating Gorton's Grilled Fish into your diet. And once consumers are feeling great on the inside, Gorton's will help to make one lucky winner feel their most fabulous on the outside, too. The Gorton's "Real Fabulous" sweepstakes offers consumers the opportunity to enter to win one of twenty $50 gift cards in weekly prizes, and one grand prize of a $1,000 wardrobe makeover.
"At Gorton's, we believe that feeling really good goes beyond how you look on the outside. It's about how you feel on the inside," said Gavin Kennedy, Director of Consumer Marketing at Gorton's. "The 'Real Fabulous' promotion lets us share the news of our Grilled product line and the many ways incorporating Grilled fish into your diet can help you look and feel your best, while also giving consumers a chance to win a wardrobe makeover."
There are several really fabulous reasons to incorporate Gorton's Grilled Fish into your diet plans this year. Each fillet is gluten free, high in protein, 3 grams of fat or less and 100 calories or less. But, you don't have to sacrifice taste for a trimmer waist. The wide variety of options like 100% real Grilled Tilapia, Grilled Salmon, and Grilled Alaska Pollock, expertly seasoned with delicious flavors like real garlic, zesty peppercorns, lemon, and spices helps make sticking to resolutions easier.
To enter the Gorton's "Real Fabulous" Sweepstakes without purchase, "Like" the Gorton's Facebook page, and fill out all required fields in the entry form. To enter without going through Facebook, go to the Gorton's Promotions Page and fill out all required fields in the entry form. Participants have the opportunity to enter the sweepstakes once daily for a chance to win one of 20 weekly prizes, and will then be automatically entered for the chance to win the grand prize. Only online entries are accepted or permitted.
Gorton's offers downloadable coupons and a free digital newsletter that provides monthly recipes and coupon offers on the Gorton's website, http://www.gortons.com. In addition, Gorton's Seafood is on Facebook, Twitter, and Pinterest where consumers may connect with the brand and be the first to hear about news, contest announcements and special promotions.
About Gorton's Seafood
Since 1849, Gorton's mission has been to help people everywhere enjoy the goodness of great seafood. Headquartered in Gloucester, Massachusetts, Gorton's is one of America's oldest continuously operating companies, and continues to be the innovative leader in the seafood industry. Gorton's full line of frozen seafood products spans from Breaded and Battered Fish Sticks and Fillets, to gluten free Grilled Fish, to Shrimp Scampi and innovative product lines such as Skillet Crisp Fillets and Simply Bake Fillets. Gorton's products are available nationwide in better independent and chain grocery stores.
Gorton's proudly stands behind the promise that consumers can "Trust the Gorton's Fisherman" for the best-tasting, highest-quality seafood. The Gorton's Fisherman, in his yellow slicker and rain hat, embodies this commitment. For more information, please visit http://www.gortons.com or call 1-800-222-6846.