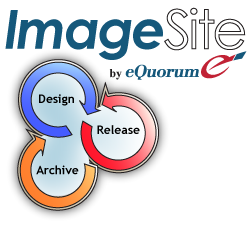 This is the first time the industry has integrated covert file tracking in a document management solution.
Atlanta, Georgia (PRWEB) January 16, 2014
eQuorum Corporation announces significant new features in Version 8.7 of its ImageSite® Document Management solution, including industry first file earmarking functionality. This is the first time the industry has integrated covert file tracking in a document management solution. Scott Brandt, eQuorum's CEO, stated "this is really exciting because today's document management systems leave companies hanging once files are downloaded by their users. Now IT and Legal departments have the added assurance that if files are compromised they will know about it."
ImageSite's Earmarking module can track files outside the corporate network and using alert parameters can notify corporate administrators when files are compromised either by being opened outside allowable IP ranges, opened an unacceptable number of times, or printed or saved in a given time frame. Administrators are also given information to decide whether or not to lock down the file. Currently, all Word and Excel documents are included, as well as almost all PDF files.
Multi-directional Synchronization
ImageSite V8.7 has enhanced the eSync=Site™ module to support multi-directional synchronization for two or more servers. This enables member servers to pass new and changed documents and metadata back and forth, allowing all users to gain access to non-local servers while ensuring files are the most current. According to Mr. Brandt, "companies with many locations can now leave large engineering files local to their primary users while allowing other people in the company to see and share the files if they need them."
Multi-directional Attributes for AutoCAD
ImageSite can now not only read metadata from AutoCAD block attributes, it can write information back into those attributes from ImageSite's custom defined fields. This allows users to make bulk changes to file attributes in ImageSite and have them populate directly into AutoCAD. This ensures any changes made to attributes in either AutoCAD or ImageSite remain synchronized, while using ImageSite's easy to use interface to enter changes.
Additional Enhancements
The ImageSite V8.7 release also provides some significant upgrades and enhancements, including:

Complete support for AutoCAD 2014 integration
Complete support for SolidWorks 3D viewing
Vectored search values populating search screens
Standard projects supporting queued rendering
Support for Java Release 1.7.0_45.
About eQuorum
Based in Atlanta, Georgia, eQuorum is the developer of the ImageSite suite of products, an enterprise-wide document management system for companies that use engineering data. ImageSite can be implemented as both an internal document management system and as a collaboration solution with affiliates, customers, and vendors for a wide variety of industries. eQuorum provides solutions including its software, business workflow consulting, training, and implementation services to help customers quickly realize the productivity benefits of their solutions. For additional information regarding eQuorum's products and services, please call Bob Bowden at 404.497.8106 or bob.bowden(at)eQuorum(dot)com, or visit the company's web site.
http://www.equorum.com
Engineering documents. Elevating productivity.
ImageSite and eSync=Site are registered trademarks or trademarks of eQuorum Corporation.
All other products are trademarks or registered trademarks of their respective owners.