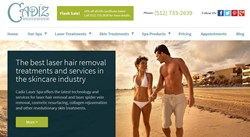 "The previous website design was good, but we knew there were several key ways we could improve it for clients," said Christine Crownover
Austin, Texas (PRWEB) January 13, 2014
The New Year has brought a lot of positive changes to the Cadiz Laser Spa website. Visitors will immediately notice the new wider design that stretches from one side of the screen to the other and allows for the use of larger, easier to read text. The homepage layout has also been revamped to present more information that's better organized, which was the intent behind the redesign.
"The previous website design was good, but we knew there were several key ways we could improve it for clients," said Christine Crownover, nurse and Clinical Manager at Cadiz Laser Spa. She added, "Providing easy access to information was a top concern. There's now more information on the site, but because of the changes it's easier to find exactly what you're looking for."
Drop down sub-navigation was a huge improvement from the previous design that required users to click through to find inner pages. Now visitors can quickly access information on Cadiz Laser Spa's most popular services and products like, laser hair removal. The spa has also added more ways for visitors to connect through social media.
In addition, Cadiz Laser Spa is making their blog a focal point of the newly redesigned website by adding it to the top navigation. Previously the link to the blog was located in the footer at the bottom of the pages making it difficult for visitors to locate. The change should dramatically increase readership and become a valuable tool for visitors that are looking for detailed information on services, products and the latest industry news.
To see the newly redesigned site and learn more about the services provided by Cadiz Laser Spa, please visit: http://www.cadizlaserspa.com.
About Cadiz Laser Spa
Offering the latest in laser technology, Cadiz Laser Spa's experienced medical professionals are focused on helping patients improve their body image and self-confidence. Their state-of-the-art lasers are among the safest and most effective in the industry for a wide range of services. From two locations in the Austin area Cadiz Laser Spa is able to offer clients laser hair removal, cosmetic resurfacing, laser skin treatments, spider vein removal, collagen rejuvenation, facial treatments and more in a relaxed, professional environment.