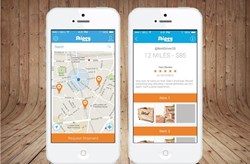 Big enough to serve, small enough to care.
Los Angeles, CA (PRWEB) January 13, 2014
How do you get something from point A to point B with the least effort possible? Companies like Amazon, uShip, and many others have been trying to perfect this market for years. Even as Amazon tests delivery drones, the solution is simply in the palm of your hand. Beginning May 2014, shippers in select starting cities will be able to find a driver and arrange for personal pickup by tapping a few buttons on their smart phone. The Shipey app changes the way shipping happens. Drivers are pulled from a pool of qualified applicants, evaluated based on driving credentials and background checks, and instantly become a shipper. Seriously, it's like Lyft meets UPS.
Business owner Lauren Powell says, "This nifty app changed the way I run my business. Now, instead of spending hours at my desk trying to ship something, I can access all my records from my mobile phone!"
"The team at Shipey, Inc are definitely focused on my needs as a small business owner. Quick access to my financial information is crucial," says local business owner Richard Griffith. "I log on, tap a few buttons, can visually see the drivers in my area, and have my shipment arranged in minutes."
The Shipey mobile app launches May 2014 for both the Apple and Android platforms. The Shipey app enables anyone with a vehicle, a driver's license, insurance and a good driving record to become a courier. Bicycle messaging in some cities enables a fast, green alternative to carrying documents and small packages. Consumers and companies now have alternatives to costly traditional shipping or messenger services. Adam Winters, founder of the successful, eco-friendly transit company Green Technology Transport, created the Shipey app to help companies and individuals transport more efficiently and to allow almost anyone to supplement their income. The best part is that all business transacted through Shipey stays local, strengthening that community's economy.