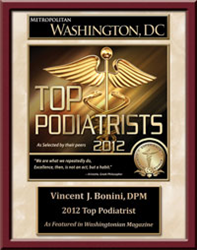 Our staff is here to help you build a strong and healthy foundation by addressing any podiatric issues that may be keeping you from your best self.
Washington, DC (PRWEB) January 13, 2014
Potomac Podiatry Group PLLC released a new video describing its business and best industry practices recently. The video is meant to describe the business and industry best practices for Podiatrist Woodbridge VA and Podiatrist Chantilly VA.
Potomac Podiatry Group PLLC are experienced and dedicated physicians who provide medical diagnosis and treatment of foot and ankle problems. Their experience in podiatry is combined with genuine concern for patients. All of their staff is dedicated to caring, comfort, and consideration. Potomac Podiatry Group is committed to the prevention, detection, and treatment of foot and ankle problems. Their goal is to help maintain healthy feet and ankles.
Dr. Vincent Bonini, Dr. Tina Huynh and Dr. Craig Morgan, as well as their professionally trained staff, have the expertise to ensure have the best medical treatment for any podiatric issues. This practice combines modern medicine and surgery with practical guidance towards viable treatments from surgical to non-surgical options.
Listed in the Northern Virginia Magazine's Top Podiatrists of 2012 and 2013, Dr. Bonini specializes in treating both children and adults who suffer from a wide variety of conditions such as:
Reconstructive Foot & Ankle Surgery
Diabetic Limb Salvage & Wound Care
Pediatric Foot & Ankle Care
Foot & Ankle Orthopedics
Podiatric Flatfoot Reconstruction
Biomechanics & Sports Related Injuries
Dermatitis, Fungal Nails & Athletes Foot
Bunions, Hammer Toes, Gout, Neuromas
Heel Pain and Plantar Fasciitis
Injuries, Trauma, Fractures
Orthotic Therapy
Feet and ankles are the foundation of your body. Potomac Podiatry Group is uniquely qualified to treat systemic diseases of the foot and ankle, as well as many other diverse facets of foot care. From bunion correction to complex reconstructive foot and ankle surgery, Potomac Podiatry Group is here to help build a healthy foundation.
Take a step in the right direction by contacting their Woodbridge office. Call 703-583-5959 visit them at their website at http://www.potomacpodiatryva.com/ to know more.