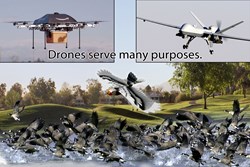 Drones are, and have the potential, to provide high tech solutions to a range of issues. Growing populations of wildlife need to be controlled as they can have an impact on our health and safety. Remote controlled drones will definitely offer an effective
Chicago, IL (PRWEB) January 14, 2014
Bird-X, Inc. has a special interest in Drones, since one of the most promising new products we manufacture is designed to condition pest birds to stay away from areas where they are not wanted or where they put themselves and others in danger. Remote controlled drones equipped with speakers that emit predator bird and birds in distress calls are becoming one of the fastest growing segments of pest bird control.
The announcement of the Amazon PrimeAir Drone delivery system is exciting – packages being delivered within 30 minutes or less is certainly something worth getting excited about! Additionally, according to the LA Times, other companies including UPS and Google are testing their own drones for similar purposes.
The BirdXPeller Drone is used in many large outdoor areas, including airports to prevent bird strikes, and on golf courses to keep the greens clean, clear of birds, and ready for golfers. Maintenance costs are reduced dramatically and course conditions improved for more enjoyable rounds.
On golf courses, pest birds leave droppings that disrupt games as balls roll through them, as well as nibble the grass in areas where higher grass is desired. They cause thousands of dollars in damage and maintenance expenses and are a very common problem for most golf courses – especially since so many birds are attracted to the lakes and wide open spaces that golf courses provide.
The Amazon PrimeAir Drone may scare away a few birds that cross its path, but the BirdXPeller drone's secret to bird control is its multisensory attack; visually mimicking an eagle, a natural predator bird, it is equipped with a sonic sound device that emits natural sounds of hawk cries as well as bird distress calls.
In addition to these drone uses, the Chicago Tribune recently mentioned their use as a marketing tool. By equipping a drone with a camera, marketing materials and detailed maps of large areas can be created – not only for golf courses, but for real estate sales. For golfers, having better maps also means a smoother golfing experience, while in real estate they can provide detailed home and neighborhood views.
Drones have come a long way since hobbyists started flying remote controlled airplanes; their true potentials are being realized and are expanding into everyday life. While the emergence of the Amazon PrimeAir Drone and other delivery drones may still sound like science fiction, the BirdXPeller Drone has proven for years that high tech pest control solutions are the wave of the future.
To view a video of the BirdXPeller Drone at work on a golf course, click here.
Dennis Tilles, President of Bird-X, Inc., stated, "Drones are, and have the potential, to provide high tech solutions to a range of issues. Growing populations of wildlife need to be controlled as they can have an impact on our health and safety. Remote controlled drones will definitely offer an effective option in the pest control market segment."
About Bird-X
Bird-X, Inc. is the leader in producing humane pest and bird repellent products, since 1964. We offer the most comprehensive line of bird control products that are humane, non-toxic and eco-friendly. Our bird deterrents range from state-of-the-art laser technology to sonic/ultrasonic bird control, goose and pigeon repellents, bird netting, bird spikes, visual scares, and animal sound repellants.