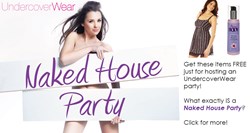 'We don't want your house to feel empty and naked. We want to fill your house with friends and fun and throw a Naked House Party.' - UndercoverWear CEO, Tiffany James
Tewksbury, MA (PRWEB) January 14, 2014
UndercoverWear Inc. has launched its latest Home Party concept in January by sponsoring "Naked House Parties" across North America. The new concept launched on January 1st has been a success with guests and customers in the first month of the New Year. While the name might be a bit misleading, it's a concept that is quickly catching on and increasing business for the retailer.
For over 35 years, UndercoverWear has been introducing new and innovative ideas to keep customers engaged, including The Sensuality Test, "Do it for the Girls" campaign, even the concept of Home Lingerie Parties themselves. In order to increase sales and business in the typically-slow month of January, the company needed to consider new ways to build interest in Home Parties.
The post-holiday timeframe posed a unique opportunity for marketing the company's Home Parties. After the holidays, a house can feel naked – decorations are gone, music is off, and the in-laws have moved out of the guest room. Although some might be grateful about the in-laws, it seems the excitement is missing. So UndercoverWear's CEO, Tiffany James, came up with an idea. "We don't want your house to feel empty and naked. We want to fill your house with friends and fun and throw a Naked House Party."
As a result, UndercoverWear launched a month of new promotions, contests, and incentives based on the naked theme. By booking a Home Party through the company's website, hostesses and guests can get free gifts for being part of a Naked House party. On the company's Facebook Page and Twitter account, contests are running to show off Naked House Parties across North America.
The concept also ties into many people's New Year's Resolutions. UndercoverWear's President, Jamie Jamitkowski, said, "One very common resolution is to take time to enjoy your relationships. We want to help customers focus on themselves, have fun and get excited about the New Year."
The concept has provided a solid boost to UndercoverWear in the first two weeks of the month with a 31% increase in U.S. Home Party business over the same period last year. For information on Naked House Parties, how to attend one or about UndercoverWear, visit the website at UndercoverWear.com.
UndercoverWear has been the leader in the home romance party-plan industry since 1977. Started by Walter and Tiffany James, the company has grown from a small local retail outlet to an international multi-million dollar corporation. The company's operations are currently overseen by Jamie Jamitkowski, President of UndercoverWear and son of Walter and Tiffany James.