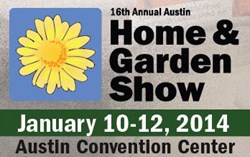 'The Austin Home & Garden Show is a great resource for homeowners as well as people within the home construction industries that want to see the latest technology and products,' said Steve Anthony
Austin, Texas (PRWEB) January 11, 2014
Timbertown Austin invites everyone to join them at the 16th Annual Austin Home & Garden show this coming weekend. The company's outdoor lumber experts will be on hand to provide show goers with professional advice on creating and updating exterior spaces using today's latest products.
They will also be bringing product samples for visitors to get a firsthand look at during the show. Timbertown Austin is currently the only supplier in Texas with the Trex Curve System that allows homeowners and contractors to incorporate rounded corners and curves in their deck design. The Austin Home & Garden Show will be an opportunity for anyone interested in the system to get a closer look at how it works and how Timbertown Austin has used it on past projects.
"We welcome any opportunity that allows us to share our knowledge and interact with those that are interested in our products," said Steve Anthony, owner of Timbertown Austin. "The Austin Home & Garden Show is a great resource for homeowners as well as people within the home construction industries that want to see the latest technology and products. We hope to provide real value for anyone who visits our exhibit."
The Austin Home & Garden Show
The Austin Home & Garden Show is a weekend long event held in the heart of downtown. Attendees are encouraged to come early and often with single tickets that are good for the entire duration of the show.
Location: Austin Convention Center
500 E. Caesar Chavez St.
Austin, TX 78701
Time: January 10-12, 2014
Friday: 2 p.m.- 7 p.m.
Saturday: 10 a.m.-7 p.m.
Sunday: 11 a.m.- 5 p.m.
To learn more about TimberTown Austin's products and services, please visit: http://www.timbertownaustin.com.
About TimberTown Austin
The experts behind TimberTown Austin have over 50 years of experience in supplying outdoor lumber for a wide variety of projects. Serving the Austin and the surrounding areas, TimberTown Austin has built a solid reputation as a reliable resource for softwood and hardwood lumber, composite decking, hardware deck accessories and more.