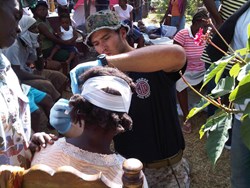 Our focus then was on making an immediate difference in the lives of those affected. Little did we know what Team Rubicon would become.
LOS ANGELES (PRWEB) January 11, 2014
The world watched in horror when a 7.0 magnitude earthquake devastated Haiti, Jan. 12, 2010. While the world mobilized to aid the impoverished nation, a small group of military veterans and first responders banded together to assist—they would become known as Team Rubicon.
And they would pioneer a paradigm shift in not only disaster response, but veteran reintegration.
"We couldn't just sit on our couches and not help," said Jake Wood, a former Marine sniper, now CEO of Team Rubicon. "Our focus then was on making an immediate difference in the lives of those affected. Little did we know what Team Rubicon would become."
Four years after the quake, Team Rubicon has grown from eight to 14,000 members—most of whom are military veterans. Team Rubicon has 51 missions under its belt now, including Superstorm Sandy, Oklahoma Tornadoes, and Typhoon Haiyan in the Philippines.
The rapid growth, according to Wood, is a credit to the skills and experience of its members which seamlessly translate to disaster work, including search and rescue, field medicine, damage assessment, debris removal, and volunteer management. In 2013, volunteers engaged in 87, 282 hours of service.
However, it wasn't an easy beginning for the upstart organization. At first, Wood and fellow Marine veteran William McNulty looked to join with established relief organizations.
After being turned away, they took it upon themselves to raise funds online, secure medical supplies, and make their way into Haiti via the Dominican Republic. They theorized that a small, nimble team could be formed that would help bridge the gap until the larger organizations could establish operations.
Within five days of the quake, Team Rubicon treated their first patient—and thousands more would receive assistance. While doing so, the members learned that their work served another purpose—it filled a void of service lost after leaving the military.
"The military provides its members with a purpose, an identity, a true sense of community," said McNulty, who now is the managing director of Team Rubicon International. "Yet when you take the uniform off, it doesn't change who you are. Most people join the military because they believe in something bigger themselves. Team Rubicon helps fulfill that need to serve, that so many veterans seek."
Because veterans only make up 13 percent of the population, and only 1 percent of Americans have served in Iraq and Afghanistan, they are very much a minority—which can make the return to civilian life difficult. As combat operations in Afghanistan draw down, and the military looks to cut its ranks, more veterans will need assistance.
"Today's military does a tremendous job preparing veterans with numerous 'soft skills' such as: leadership, teamwork, risk analysis, priority tasking and work ethic," said Wood. "However, many veterans leave the military unprepared with the 'hard skills' necessary to thrive in a tough, civilian job market."
Looking ahead, according to Wood, a comprehensive training pipeline has been developed that will enable members to receive everything from the most basic response preparedness training up to becoming certified through the National Incident Management System.
Additionally, plans are underway to expand the organization's ability to respond to more crises at home, while replicating Team Rubicon in other countries.
"It's easy to forget, but many countries have fought by our side since 9/11," said McNulty. "Veterans from Norway, England, Canada, and Australia have reached out to us about bringing the TR model to their respective country. They talk about the same challenges of veteran reintegration."
While Wood and McNulty have bold plans for Team Rubicon's future, they remained focused on the mission they happened upon by responding to help the people of Haiti.
"Disaster is our business, but veterans remain our passion," said Wood. "The accomplishments of the past four years have been many, yet it's not in our DNA to rest on our laurels. We must always be ready for the next disaster, and ensure that our veterans are afforded a successful transition at home. In doing so, we make a difference for them, and the communities they serve."
To learn more about Team Rubicon's mission, visit http://www.teamrubiconusa.org.
About Team Rubicon: Team Rubicon (TR) unites the skills and experience of military veterans with first responders to rapidly deploy emergency response teams. TR offers veterans a chance to continue their service by helping and empowering those afflicted by disasters, and also themselves. For more about Team Rubicon, visit http://www.teamrubiconusa.org.