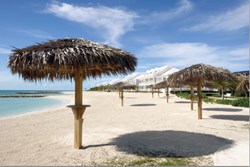 "We want everyone to know about this incredible community filled with unbelievable amenities." - Zack Bonczek, Director of Sales & Marketing
New York City, New York (PRWEB) January 12, 2014
As the infamous ball dropped in Times Square welcoming 2014, it was more than 2,688 Waterford Crystals that shone; an impeccable waterfront development in the Bahamas, Palm Cay, flashed on the huge screen as an estimated one billion people around the world watched.
As New Year's Eve celebrators pulled scarves and loved ones closer to battle the bitter cold, the sight of Palm Cay's townhomes and palm trees on a stretch of white sandy beach with a view of the clear blue sky and sea sparked dreams of paradise and a place that could soon be called home.
The unexpected appearance of the award-winning community with four short words on the screen, "Done With Winter Yet?" and the website, "Palmcay.com", was part of an ongoing campaign that between December 27th and February 1st will be viewed thousands of times by 1.5 million people each day on the One Times Square building as well as in the Horizon Wall Street Journal insert. For Palm Cay, which was recently awarded the first ever "Developer of the Year" Award by the Bahamas Contractors Association, the exposure was aimed to draw attention to its $200 million fully-funded family-oriented active community with a wide array of residential options, 194-slip marina, spectacular beach, and much more.
Not only is the Bahamas one of the most popular vacation destinations among United States residents, but it is among the leading places to purchase a vacation home – and with luxurious developments like Palm Cay, the search for the perfect home is made easier.
"The various types of residences within Palm Cay are extremely popular and are selling fast with more than 70% of the single family residential lots sold," said Sales and Marketing Director of Palm Cay, Zack Bonczek. "We want everyone who shares a love for the beautiful Bahamas to know about this incredible community filled with unbelievable amenities and there's no better place than NYC, one of the greatest cities in the world, during the most magical time of the year."
About Palm Cay:
Palm Cay is a 69-acre residential community along New Providence's southeastern shore in Nassau, Bahamas. It features over 300 properties, including single family lots, townhomes, and condominiums along with a 194-slip, deep-water, full-service marina. Additional amenities include a clubhouse, two tennis courts, playground, swimming pools, and 1,500 feet of oceanfront. Future plans for Palm Cay include a fitness center and full restaurant. To learn more about Palm Cay and its unparalleled amenities, visit http://www.palmcay.com.