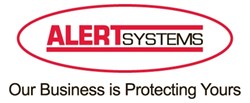 it is important to have CCTV security systems in place to offer reassurance to members of staff and customers
(PRWEB UK) 10 January 2014
It has been reported directly by the North Yorkshire police in a news article called 'CCTV issued in hunt for hotel burglar' published on the 6th of January, 2014, that they have released CCTV images as part of a police enquiry into the alleged theft of an undisclosed amount of money from a Travellodge in Scarborough in the early hours of the morning on the 1th of December, 2013.
It's alleged that the suspect gained forced entry into the hotel and raided a till for an undisclosed amount of cash. He then continued to break into the hotel's office and stole the contents within a cash float.
Police have released an image of the man captured on CCTV security systems in the hope that the individual may be identified and that anyone who has information will come forward.
As a leading business security provider, the CCTV specialists at AlertSystems closely follow CCTV-related news. A representative for the company offered their thoughts on the release of the CCTV image:
'Thefts are able to affect businesses of all sizes; even businesses that operate a chain of establishments can be damaged by small incidents such as this, especially if they are recurring. With this in mind it is important that businesses have sufficient commercial security systems in place to protect the company in the case of crime. Installing high quality CCTV tactically, in vulnerable areas, such as near the till, office or stockrooms. Also, areas which receive frequent footfall such as entrances and exits can be vital in helping police with their enquiries in the case of a crime.
'Furthermore, planned thefts are notoriously difficult to predict and prevent, so it is important to have CCTV security systems in place to offer reassurance to members of staff and customers.'
AlertSystems manage and maintain over 5000 security installations throughout the UK and are specialists in providing business security solutions. Offering professional service and a complete range of security services such as monitored alarm systems, Automatic Number Plate Recognition and Avigilon CCTV security systems. AlertSystems offers effective and reliable solutions to security