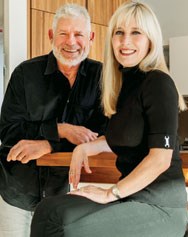 "I'm a practical-minded guy, but beauty needs to be celebrated and respected," he says. "That's what this house represents."
Rockville, Maryland (PRWEB) January 14, 2014
The January/February 2014 issue of HOME & DESIGN Magazine is now on newsstands featuring a Private Tour with football Hall-of-Famer John Riggins and his wife Lisa Marie. This best-selling annual kitchen issue is packed with great ideas for kitchen re-designs. This issue will take you inside five dazzling kitchens that combine innovative design and cutting-edge materials. Also featured, the latest kitchen products to make cooking a breeze and expert advice on organizing and making small spaces work.
From the John Riggins Private Tour article:
Football legend John Riggins keeps souvenirs of his career as a running back for the Washington Redskins in the basement media room of his newly built home. Riggins's team helmet sits on a coffee table and, leaning against the walls, framed photos and newspaper clippings document his pivotal role in Super Bowls of the 1980s.
These days, though, "The Diesel" is more interested in talking about his current venture than past glories. After stints as an actor and sports commentator, he now hosts his own television show on Comcast SportsNet Washington called "Riggo on the Range." The episodes combine hunting and fishing adventures with cooking game caught in the wild.
Further magazine highlights include Simply Chic, where interior designer Kristin Peake pairs tone-on-tone textures for a clean, classic aesthetic; Past Perfect, where a design team pays homage to an historic home with a new, Shingle-style abode; Back to Nature, where Mark McInturff designs a modern retreat in the woods; Clean Slate, where Nestor Santa-Cruz imparts an elegant and eclectic vibe to a renovated Chevy Chase Colonial; Design Fusion where architect Reena Racki expands a 1930s cottage into a dynamic, contemporary home.
Datebook keeps you abreast of the latest design events and art happenings. And as always, this issue's Indulgences tempts you with the best of the good life in travel, toys, fashion and food.
Read more at HOME & DESIGN Magazine.