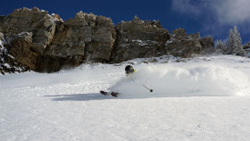 Skiers have been waiting for this type of storm all winter long. And with more micro-systems rolling in day after day, the snow totals are adding up quickly
Alta, Utah (PRWEB) January 12, 2014
Powder panic is spreading through Alta like wildfire. Skiers have been waiting for a storm like the one happening now in Little Cottonwood Canyon all winter long. Alta is reporting 14" of snow in the last 24 hours, and 24" total for the storm. With more micro-systems rolling in day after day, the snow totals are adding up quickly. Alta has reported a settled snow depth of 65" and with another 3 - 7" predicted for Sunday conditions are only getting better.
As Martin Luther King Jr. holiday weekend approaches Saturday, January 18 through Monday, January 20, there is still time to plan a last minute long weekend ski vacation. With the powder piling up, fresh tracks all over the mountain, and free refills throughout the day, don't miss your chance to be skiing the steeps and deeps of Alta. Book a ski vacation to Alta and stay at one of Alta's mountain lodges, homes or condos.
The winter storm isn't the only exciting thing happening at Alta. The Alta Chamber and Visitors Bureau is currently offering the Discover Alta package. With the package you can stay three or four nights at one of Alta's mountain lodges, condos or homes, ski two or three days of Alta's famous terrain, take a ski school lesson, eat breakfast with a pro from the Alf Engen Ski School and demo the latest boots and skis. Hop on a plane to Salt Lake City and enjoy quick and easy transportation from the airport to your mountain destination. Visit http://www.discoveralta.com/discover-alta for more information.
About Alta Chamber and Visitors Bureau (ACVB)
ACVB was formed in 2011 to promote Alta and Little Cottonwood Canyon as a world-class mountain resort destination and to enhance the visitor experience. ACVB functions with the assistance and support of the private business community, individual memberships and the Town of Alta. For more information, visit discoveralta.com, or email info(at)discoveralta(dot)com.