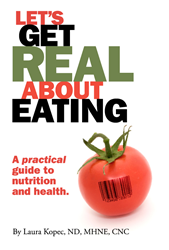 '"Let's Get Real About Eating" keeps it simple, clear, and honest. It's not about being alternative or holistic, it's about speaking the truth regarding our food.' - Randy Naidoo, M.D., Pediatrician
Plano, TX (PRWEB) January 10, 2014
Resolutions to eat healthier and lose weight are at the top of 90% of American's list each year. But for most consumers, exactly how to do this is confusing. On Saturday, Jan. 18, Author, Nutritionist and Natural Living Expert, Laura Kopec, will discuss her new book, "Let's Get Real About Eating: A practical guide to nutrition and health", at the Creekwalk Village Barnes & Noble in Plano from 2- 4 p.m..She will reveal the basic nutrition and lifestyle rules found in her book that everyone should follow to make a positive impact on their health and the health of their family.
The new book is a comprehensive, practical guide that cuts through the health and nutrition clutter and gets straight to the fundamentals of what we eat, how we feel. and how to make simple changes for optimum health. Author Laura Kopec will discuss the 16 Rules of Nutrition featured in her new book, along with simple, everyday strategies for improving your health in 2014. Based on current research, basic laws and common sense, her book outlines a rule in each chapter and practical strategies that anyone can incorporate into their daily life.
The discussion will be followed by Q&A and book signing. Gift certificates for products from Kopec Naturals http://www.kopecnaturals.com will also be provided to attendees.
Laura Kopec, ND, MHNE, CNC, is a leading nutritionist and natural living expert with a nutritional counseling practice in Plano, TX., and the founder of Kopec Naturals http://www.kopecnaturals.com, a natural skincare company with products for adults and children in select Whole Foods stores in North Texas.
For more information, contact admin(at)kopecnaturals(dot)com, or Barnes & Noble Creekwalk Village, 801 W. 15th Street, Suite E, Plano, TX. (972) 881-7526.