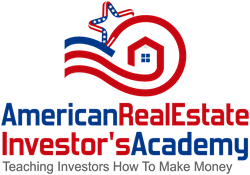 I think of this as a new way to find private money. In the past you always had to find private lenders who had cash on hand.
New York, NY (PRWEB) January 13, 2014
The American Real Estate Investors Academy is working with Aurelian Capital to bring unsecured credit lines to real estate investors. Membership in the Academy is not required.
The American Real Estate Investors Academy is an umbrella organization of real estate clubs and individual real estate investors. The goal of the Academy is to bring investors together with the tools to make real estate investing successful. The main focus of the Academy has always been the educational side of real estate investing. Education is still an important component of the group; however, matching investors with useful products and services is becoming more critical to the overall success of the membership. This joint venture with a financial powerhouse like Aurelian is a prime example of the types of deals that a large group can negotiate for the benefit of smaller real estate clubs and individual investors. Local member clubs like the Florida Gulf Coast REIA and Pittsburgh REIA could never arrange a working partnership like this on their own.
Real estate investors and small business owners who are unfamiliar with Aurelian should read this excerpt taken from the company website, "Aurelian Commercial Lending is a privately funded International Commercial Lending Institution for Commercial Real Estate Developers, Businesses, and Medical Professionals.
Aurelian Commercial Lending specializes in providing direct domestic and international commercial financing for businesses and real estate projects. With funding capabilities that rival even the largest financial institutions, combined with a team of seasoned business professionals, we are in the unique position to handle any size transaction while providing unmatched support. We work with enterprises of all scales, including real estate developers, well-established businesses, medical professionals and non-profit organizations."
The unsecured credit line program is one of the many services that the company offers. These lines of credit are derived from the extensive network of banks that work with Aurelian. Aurelian will work with investors and help them get the best deal on an unsecured business line of credit. This program is similar to what mortgage brokers do with home buyers looking for mortgages. They will shop an investor's application around to several banks and find the best deal for the investor's needs.
According to Josh Caldwell of the American-REIA, "I think of this as a new way to find private money. In the past you always had to find private lenders who had cash on hand to fund your deals. Now all you need is someone with good credit. You can put them together with this program, get them a line of credit and then pay them a high rate of return on that money. Your private lender can use bank money to make money on you, and you can make money with your real estate projects. It's a win for everyone."
The American Real Estate Investors Academy will build a direct link from the Academy website to the application portal in the future. In the interim this special link will take investors and entrepreneurs to the application. The Academy is working to expand this partnership and find ways to offer new benefits to members and affiliated real estate clubs.