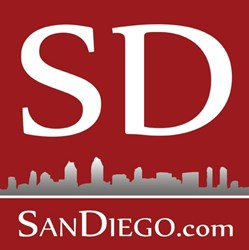 San Diego, CA (PRWEB) January 10, 2014
San Diego is well known for its beautiful beaches and near perfect weather year round, which means even in the winter the beach is still the place to be in San Diego. Three popular beach destinations are Mission Beach, La Jolla, and Carlsbad and SanDiego.com has listed the best places to stay and things to do this winter at the beaches in San Diego.
Here is a printable list for 2014:
1. Mission Beach - One of the most popular beach locations in San Diego, Mission Beach is an iconic west coast beach. Mission Beach is located in the Mission Bay region and offers plenty of fun in sun, sand, and surf. Here are a few helpful options when planning a trip to Mission Beach:
Blue Water Vacation Rentals- The Mission beach boardwalk has quite an array of marvelous beach front homes which make for the perfect stay for a San Diego vacation. Blue Water Vacation Rentals, is the way to go when booking a rental because everything is taken care of. They will even stock your fridge, find babysitters for the kids, and even plan out an itinerary.
Segway of Pacific Beach- The perfect way to cruise around and see the beautiful scenery, Segway of Pacific Beach has tours and rentals available. If you want to see the beaches try out the Mission Bay Segway Tour, beginning on the bay side you will see the harbor and immaculate houses, and along the way back you will cruise on the boardwalk of Mission Beach to Pacific Beach and view beautiful Pacific Ocean views.
Jetpack America- That's right, a jetpack. Jetpack America San Diego takes guests on an adventure like no other, where you will literally fly up into the sky and hover above the Mission Bay. Using water propulsion the jetpack will lift you up into the sky over 30 feet. This is truly an experience of a lifetime that guests will never forget.
2. La Jolla - A hilly seaside community in San Diego, La Jolla is a true gem to California. With beautiful shorelines and sea life to check out, it is definitely luxurious and unique. Explore Prospect Street, the main strip of La Jolla, where you can walk the streets and find shopping, dining with ocean views, music, and many amazing art galleries to check out. Here's some help when planning travel:
Sheraton La Jolla- Centrally located in the heart of La Jolla, the Sheraton La Jolla is close by many popular shops, restaurants, the beach and activities. The Sheraton La Jolla is also a pet friendly and kid friendly hotel, so none of the family needs to be left behind.
La Jolla Kayak, Bike, and Snorkel Tours- La Jolla's beaches and water are some of the most beautiful, with natural caves and sea life to explore. Join a kayak tour and head out to the 7 caves and see the sea lions that have made La Jolla their home. The bike adventures are a great way to see a lot of La Jolla, as bikers pass by Windandsea Beach, the children's pool, and Birdrock. The snorkel tour will take you up close and personal with the underwater sea life including the famous leopard sharks, but don't worry they are harmless.
3. Carlsbad - The beach in Carlsbad is state protected as a part of the State Park System of California. With beautiful coastal bluffs, the beach is a popular surfing, swimming, scuba diving, snorkeling, and beachcombing place. The area has many popular shops, restaurants, and hangout that attract locals and visitors alike. Check out these popular options:
Carlsbad Seapointe Resort- The perfect solution for travelers looking to enjoy an ocean view but not break the bank, the Carlsbad Seapointe Resort is located in the heart of Carlsbad. Admire the views and be treated at the luxury resort with the vast amount of accommodations offered. Guests can enjoy walking to eateries, shops, and other attractions nearby.
LEGOLAND- This LEGO inspired park is perfect for children ages 2-12, with child friendly rides and activities. Guests can opt to buy a park hopper ticket and also enjoy the water park by LEGOLAND, with rides, slides, and activities for a day of fun in the sun and water for all ages.
SanDiego.com is one of San Diego's oldest and busiest travel and tourism websites, known as the local authority for all things San Diego. The author of this article, Erica James, is a native San Diegan who truly believes that there is no place more fun and exciting than beautiful San Diego.