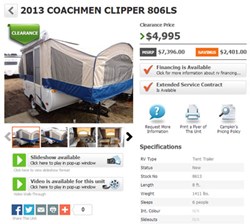 We are making sure that no customer has a bad experience – because our online store is a direct reflection of our physical store.
Whitby, Ontario (PRWEB) January 15, 2014
Applying customer feedback and usability best practices, Brad Campkin and the team at RVHotline.com have developed a website that reflects the essence of the dealership and makes the visitor's experience simple and enjoyable.
With one click users can get to any page on the site from any other page, and with a few more clicks it's easy to find exactly the RV or accessory you need. From a usability perspective this website is highly organized, everything clearly labelled so that there's no chance of frustration common on many other RV dealership websites in North America.
Campkin explains, "Our focus for this version of our website was our buyer. We are making sure that no customer has a bad experience – because our online store is a direct reflection of our physical store."
An improved Online Parts & Accessories Store makes Campkin's RV Centre still one of the only dealers in Canada where customers can shop the entire RV parts inventory right on the site. In addition it has been proven that over 30% of RV customers use mobile devices to research RVs and accessories. Campkin's has adapted a completely mobile friendly website displaying all RVs, online store inventory and original video. Campkin's has also added Apple and Android apps for mobile devices making access to dealership content as easy as ever on the road.
Additional new features include current brand pages for referencing all available trailer floor plans, specifications, video and manufacturer brochures. Campkin's brand pages make it easy to find available stock and include quick links to manufacturer sites for additional research.
Another great new feature is the DealerTrack financing application, enabling quick and easy credit application without having to physically visit the business manager's office. This one stop RV loan application allows buyers to complete online RV shopping from either a smart phone or desktop!
The new website puts much more emphasis on Campkin's social networks, including Facebook activity feeds and share buttons, Brad's Twitter feed, the Campkin's blog, all the usual specials, coupons and door crashers that the Campkin's website is known for. Another new noticeable feature is the Live Chat system so there's a real person ready to help users navigate the site.
And with the explosion of YouTube video online nowadays there is considerably more focus this year on adding video walk-throughs for every brand and model with factory tours and manufacturer videos so customers have all the resources needed in one place to make informed decisions before visiting the dealership.
Campkin's has implemented a pricing policy that is posted right on the website so customers know exactly what to expect, how much it will cost them and why. With no hidden fees, the pricing policy explains each and every detail of the Campkin's pricing model.
With such a great online presence many customers find that Campkin's is hard to beat, with ethical values and conscientious treatment of every visitor, the Campkin's reputation for customer service is a force in the industry.