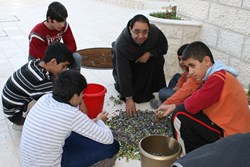 You see, they believe they are here for a purpose!
Bethlehem, Palestinian Authority (PRWEB) January 15, 2014
The Franciscan Foundation for the Holy Land is proud to announce that Fr. Marwan Di'des, OFM, and his staff at the Franciscan Boys Home in Bethlehem, near Jerusalem, will continue to support young boys into the new year.. Thanks to donations collected by the Franciscan Foundation for the Holy Land (FFHL), many destitute boys living in the Holy Land will receive education and recreational support from Fr. Di'des and the Franciscan Boys Home.
Stories of youths experiencing great hardship are not unusual for Fr. Marwan. Fr. Marwan runs the Franciscan Boys Home in Bethlehem, in the Palestinian Authority. The Boys Home is funded by the Franciscan Foundation for the Holy Land which, according to their website seeks to help safeguard the Christian presence in the Holy Land. Along with social services, a recent brochure printed by the FFHL explains that they provide funding for 13 other programs and projects. Topping the list are educational scholarships for university students, over $4.2 million-worth, as reported on the same brochure.
Fr. Marwan says that the Franciscan Boys Home plans to offer its 33 young residents and 17 additional boys that come daily the chance to participate in a variety of programs in 2014. Some of these programs are recreation-based. Some are education-based. For these 50, all will be formation-based.
Fr. Marwan is no simple friar when it comes to practical experience. He is a seasoned educator and administrator. Not only Director of the Franciscan Boys Home but also of 14 schools within the Terra Sancta Schools jurisdiction, it doesn't hurt that as a priest, he has also served as pastor for a number of parishes.
"Education includes two very essential things," he says. "Information and formation." According to Fr. Marwan, formation takes first place.
"You can provide a child with information. That is good in most cases. But what he does with it, we won't know. Formation enables him to use the information in a way that betters himself and society as a whole. It involves the entire boy, inside and out."
A better way of life is something that the young boys supported by the home and all Christians in the Holy Land desire, says Marwan. "It is vital to enabling Christians to remain in the Holy Land." Consisting of less than 10% of the population of Bethlehem, and less than 2% of the total population of the Holy Land, Christians are the minority, as is evidenced by the FFHL website. Facing discrimination on many fronts, education and formation are necessary for their ability to overcome adversity, according to Fr. Marwan.
"Life is difficult for everyone but especially for Christians in the Holy Land," he laments. "Formation helps the boys and girls at the home and the school to be ready to face the problems of the future, not run from them. It enables them to develop peaceful and successful solutions to many problems that face Christians in this land."
Watching some of his former students interviewed by representatives of the FFHL, Fr. Marwan swelled with pride. "You see, they believe they are here for a purpose! Formation has helped them discover their mission. Everyone has a vocation. But our students recognize that their vocation is part of their mission to become successful and remain in the Holy Land."
All smiles, Fr. Marwan spoke words meant more for himself than us, "Yes. You see. We really are making a difference in their lives. Formation is key."
There will be little doubt that formation is a top of his priority list as this new year gets underway.
To support the Franciscan Boys Home and Fr. Marwan's efforts, please visit http://www.ffhl.org and click the "Donations" tab.