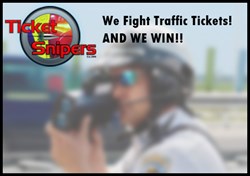 They were able to get everything dismissed...thanks again for the wonderful service...keep up the good work!- Jared, San Francisco
San Diego, CA (PRWEB) January 12, 2014
Ticket Snipers wants to show you how to fight your traffic ticket. Every day, thousands of California drivers receive traffic tickets and run the risk of losing their license, attending traffic school, or even having insurance costs go up. In order to fight a ticket, most people believe they will have to contest it in court. Ticket Snipers, a business that was started in 2008, is an alternative to paying a traffic ticket. The company helps California drivers successfully contest their traffic violations, without risk, and they led over 10,000 drivers to successful verdicts so far throughout the state. Ticket Snipers has made its main goal for 2014 to educate drivers about vehicle codes in an effort to raise the probability that they will beat a traffic violation simply through using the law and vehicle code to their advantage.
Ticket Snipers believes that every citizen of California deserves legal assistance, and every driver should have a basic understanding of certain vehicle codes in order to beat their traffic violation. Ticket Snipers provides assistance to anyone who needs it, and at a low cost. The company offers a risk-free option to contest a traffic violation without having to appear in court. After years of extensive research and knowledge of California vehicle codes, the company knows absolutely everything there is to know about winning a traffic violation case.
Many Californians ask what actions they should take when pulled over. Ticket Snipers gives advice to take good notes about the interaction with the officer, and take action immediately in order to get the violation dismissed. A case development team member should be contacted immediately in order to discuss options of how to dismiss the violation. With proper vehicle code research, it is possible that the police officer could have made mistakes. By showing inaccuracies in the officer's allegation, the officer's proof is made more difficult to satisfy judgments.
Clients have been appreciative for what the company has done for them. They have noted that their success comes from building relationships with their clients. In an age where personal relationships have gone by the wayside, Ticket Snipers strives to provide stellar customer service and the best legal defenses at a great price. Client's satisfaction is the strength of their growing business and they strive for excellence day in and day out.
Find out how to fight traffic tickets directly by visiting http://www.ticketsnipers.com