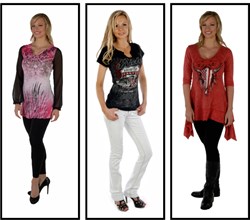 We are here to stay, and to show the World with hard work and effort, success follows.
Springboro, Ohio (PRWEB) January 13, 2014
American Made manufacturer, Liberty Wear Apparel, releases their new 2014 Women's American Made apparel line and catalog. The new American Made clothing line is currently being displayed in Denver at the WESA Exhibit, the first show of many that kicks off Liberty Wear's busy show season.
Excited over the launch, the American Made manufacturer company was still not satisfied. "We are very ecstatic to see our new line with the start of the new year, but not everyone will be able to make it to the shows." States Matteson Kelly, Marketing Director.
In their efforts to leave no one out, Liberty Wear has gone through endless nights procuring a catalog to launch at the same time to the public. Liberty Wear released their new catalog online making it available to everyone. This marks Liberty Wear's first ever publication of a catalog with their ever rapidly growing American Made apparel line. "We are finally glad to see our hard work and attention to detail being featured in these catalogs, it really focuses the attention to our items and the extra care to detail we provide," says Sean Kine, Graphic Artist.
The Launch for Liberty Wear will not only mark their first publication of a catalog which is been made available online and being mailed to all customers. It marks a turning point for the American Made company in growth. Liberty Wear will be releasing over 50 new American Made styles this year, the biggest ever. Liberty Wear shows no signs of slowing down and their growth is doubling ever year. "We are here to stay, and to show the World with hard work and effort, success follows," states Matteson Kelly.