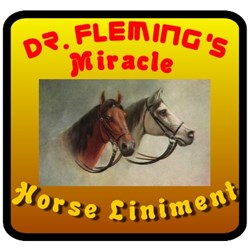 Yonkers,NY (PRWEB) January 14, 2014
Best Balms International Corp. announces that it has begun distributing Dr. Fleming's Miracle Horse Liniment throughout the United States, South America and Europe. This phenomenal 100% all natural equine liniment is the most powerful holistic healing remedy that horse owners can use on a daily basis.
It is recommended for use on horse's sore ankles, ligaments, edemas, joint sprains, tendon strains, injuries from overuse and normal exercise. Dr. Fleming's Miracle Horse Liniment is totally free of any artificial compounds or synthetic preservatives which are found in most equine products on the market.
A very new concept associated with Dr. Fleming's Miracle Horse Liniment is their refill policy which states that if the 1/2 pound jar is sent back with a payment of $9.95 along with a copy of the original invoice the factory will send the customer back a full jar of liniment.This represents a 50% savings that is passed on to the customer.
This is a great product, Thomas Palmer who is the regional sales manager says, and it allows us to diversify and expand our sales into the equine market which is huge. I think, Thomas Palmer goes on to say, that from the horse breeder, the boarding stables to the individual horse owner wants an all natural liniment to take care of aches, pains and minor injuries that all horses suffer from! Why use a synthetic compound that can be potentially harmful to horses?
Best Balms Int'l Corporation will be selling Dr. Fleming's Miracle Horse Liniment on a wholesale basis to qualified companies, horse breeders and horse stables. All requests should be directed to Mr. Thomas Palmer at sales(at)bestbalms(dot)com or at 1(877)225-6795.