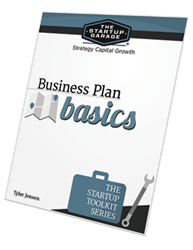 Starting a Business should be fun, even writing a business plan.
San Diego, CA (PRWEB) January 14, 2014
The Startup Garage today announced the first eBook release of The Startup Toolkit Series for entrepreneurs seeking startup funding, Business Plan Basics. The author, Tyler Jensen has helped launch over 100 startup businesses. The eBook is free to access by visiting thestartupgarage.com/ebook1
The Startup Garage was founded by Tyler Jensen to help entrepreneurs and business owners achieve success in their business ventures, as well as their lives. Tyler is a serial entrepreneur, having launched or help launch over 100 companies, including
non-profits and social enterprises. He has developed an extensive network of business relationships focused on achieving the milestones investors care about. The Startup Garage team has helped raise over $200 million for startup businesses.
"Starting a business is a very personal experience," Jensen shares. He continues, "My goal is to coach entrepreneurs in scaling their startups while maintaining the work/life balance and achieving personal goals." In the first eBook, Tyler shares the best practices and fundamentals for creating an effective startup business plan. This eBook covers time requirements, key questions to ask, information needed and insights on compiling the business plan to achieve the primary business goals.
This eBook is the first of The Startup Toolkit Series on growing an idea into a scalable business. Business Plan Basics details the business plan writing process to start entrepreneurs off in the right direction. Future eBook releases will cover friends and family funding, angel investment, crowdfunding strategy and venture capital. Past client Lars Helgeson, President of GreenRope CRM, vouches for the importance of a thorough business plan. He said, "With Tyler's help and expertise in writing our business plan, we were able to redefine our business concept for a wider, more lucrative target market. We revamped our business model, developed a new brand for the company, and honed our sales and marketing strategy."
About The Startup Garage:
Founded in 2008, The Startup Garage is a team of startup experts — brought together with the purpose of providing solutions for entrepreneurs. Located in San Diego, The Startup Garage serves clients globally, primarily in technology industries including mobile, web, manufacturing and other tech as well as consumer brands. The Startup Garage's specialty lies in the ability to hone in on the major milestones investors care about by thoroughly preparing the business, its executives and investor documents. The team takes a 360 approach to startup consulting by preparing the founding team with a solid strategy. The Startup Garage guarantees that investor documents will prepare the founder for approaching their targeted investor, no matter where they are in the capital raising process.