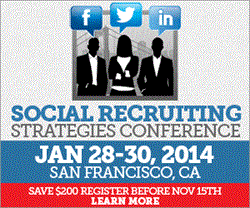 Stacy is also the Most Connected Woman on LinkedIn with more than 39,000 1st-level connections, making her the 7th most connected person out of 225 million members worldwide.
San Francisco, CA (PRWEB) January 13, 2014
Stacy Donovan Zapar, CEO of Tenfold Social Training for Recruiters & the Most Connected Woman on LinkedIn, is scheduled to present at the Social Recruiting Strategies Conference (SRSC) this January 28-30, 2014 in San Francisco.
SRSC is excited to announce the addition of Stacy Donovan Zapar, CEO & Founder of Tenfold Social Training, a social media training company for recruiters and talent acquisition teams in the US and abroad and a 15-year recruiting veteran for Fortune 500 tech companies. Stacy is also the Most Connected Woman on LinkedIn with more than 39,000 1st-level connections, making her the 7th most connected person out of 225 million members worldwide. She is a regular contributor on LinkedIn's Talent Blog and served as Technical Editor for Wiley's LinkedIn Marketing: An Hour a Day. Stacy is #6 on Huffington Post's Top 100 Most Social HR Experts on Twitter and is one of ERE's 25 People Most Retweeted by Recruiters on Twitter.
Stacy will be delivering a workshop on January 28th on how to "Optimize Your Recruiting Strategy with Advanced Deep Dive Sourcing Techniques on Google+ & Facebook." In her workshop, attendees will learn how to source from the two largest social networks online – Facebook and Google+. Stacy will show how to automatically opt-in and activate Facebook Graph Search as well as conduct deep-dive searches into Facebook's 1B member base. Participants will also learn how to search Google+'s 500M member profiles using internal search, external tools and Google X-Ray techniques.
Stacy will also be moderating the January 29th panel discussion on the topic, "You Never Get a Second Chance to Make a First Impression, Tips on How to Succeed in Talent Brand & Candidate Experience."
Stacy recently commented, "I'm excited to be participating in Social Recruiting Strategies Conference for the first time and sharing my best strategies for sourcing, engagement and talent attraction using Facebook and GooglePlus. I'm particularly looking forward to moderating the Candidate Experience panel, a cause that's near and dear to my heart!" Don't miss Stacy at #SRSC this month as this may be one of her only speaking engagements of 2014.
SRSC was recently pre-approved by the HR Certification Institute for 18 credit hours. Attendees registered for pre-conference workshops and the general conference are eligible to earn up to 18 recertification credits through the HRCI.
SRSC offers one full day of 4 pre-conference workshops and two conference days with 4 unique session tracks offering multiple interactive learning sessions. SRSC is an intimate opportunity to meet and network with industry leaders, recruiting gurus and leading brands. Join the conversation on Twitter #SRSC. To register, please visit http://www.socialrecruitingstrategies.com/ or call at 888.409.4418.
About Global Strategic Management Institute:
GSMI is a leader in the industry of executive education, creating conferences, summits, workshops and training sessions that combine rich learning environments with the opportunity to network with today's most relevant thought leaders, speakers and practitioners. GSMI's annual events have reached 80% of the Fortune 500 companies, in over 30 countries, covering topics that today's leaders find most challenging and inspiring.