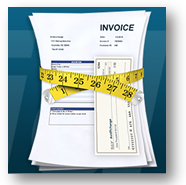 Charlotte, NC (PRWEB) January 13, 2014
AvidXchange, leading provider of AP automation and payment automation solutions for midsize companies, announced today that they will be offering two free webinars in January to help companies eliminate their need for paper invoices and checks in the new year. AvidXchange is so committed to helping companies lose the paper weight for good that they are offering all attendees a free copy of The 8 Pitfalls of AP Automation, written by Author and Automation Expert, Christopher Elmore, who will be hosting the webinar,"Lose the Paper Weight", on January 22nd.
The first webinar in the series, "The AP Cleanse that Works", is designed to jump start companies' AP year by focusing on best practices for managing their vendor database. Having an accurate and up-to-date vendor database alleviates a lot of the pain associated with tax and audit season. Presenter, Rhonda Rogers, has been in the AP world for more than 20 years, and has witnessed the shift from paper-based to automated processes firsthand and led her team through changes in tax laws. During this time she's developed a lot of great best practices that she's always happy to share with other industry professionals to make their lives easier.
Rhonda will share her best practices for:

AP Internal Controls
Master Vendor File Database Clean Up
1099's
Escheatment Compliance
Remaining Compliant with New Tax Laws
The second webinar, "Lose the Paper Weight", features Author and Automation Expert, Christopher Elmore, on Wednesday, January 22nd at 2:00PM EST. Christopher Elmore will be teaching attendees how to calculate their cost per process, optimize an existing automation project or start an automation project with all of the tools and knowledge necessary to be successful. Elmore has been helping companies transition to a paperless process for more than a decade, and has gained invaluable insight into the payment and AP industry that he enjoys sharing with companies to prevent them from repeating mistakes that other companies have made. He has written two books, The 8 Pitfalls of Accounts Payable Automation and The Argument to Automate, which share Elmore's best practices for implementing and using AP and payment automation while punctuating them with humor as frequently as possible.
About AvidXchange
AvidXchange revolutionizes the way companies pay their bills. Accounts Payable automation increases control and visibility into the bill payment process to reduce processing time, allow early payment discounts and eliminate late fees. Automation eliminates paper by electronically capturing invoices, using intelligent business rules to route invoices for approval and storing all information electronically providing anytime, anywhere access to invoice status and history. AvidXchange makes it easy to automate and backs this great customer experience with a 45-day implementation guarantee. As the first SaaS technology vendor to automate invoice processing, AvidXchange works with suppliers to electronically send and receive all invoices through the AvidBill Network. Standard integration to more than 35 accounting systems speeds adoption and simplifies setup. AvidInvoice significantly reduces operating costs and improves productivity in a company's accounts payable department. AvidPay eliminates 100% of paper checks from company's payment processes, maintains vendor information and payment preferences, and facilitates payments for every invoice, every vendor, and every bank. Headquartered in Charlotte North Carolina, AvidXchange is privately held with over 150 employees nationwide. Contact us at 800.560.9305/ info(at)AvidXchange(dot)com.
###