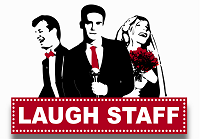 I can get a good look at a T-bone by sticking my head up a bull's [email protected]!, but I'd rather take a butcher's word for it. - Tommy Boy
Cleveland, Ohio (PRWEB) January 11, 2014
Laugh Staff's comedic team of writers is pleased to announce its latest offer to help ease the minds of potential best men and maids of honor.
Every wedding speech is now supported by a money-back guarantee. This new offering is intended to ensure prospective customers that their speech investment is protected in the event someone is dissatisfied with the result.
"We want clients to feel at ease knowing that if they hate their speech they don't have to pay for it," said co-founder Cameron Amigo. "It won't happen, but if it someone happens to not like their speech they'll be the first to take advantage of this new refund program."
The refund will occur after Laugh Staff makes every effort to rectify the situation for a client. Any client displeased with their original best man speech or maid of honor speech will be assigned a new comedian who will rewrite the speech. If the client is still not satisfied, a manager will attempt to work with the client to resolve the issue. Any further displeasure after the consultation will result in a refund.
The comedians at Laugh Staff take pride in their craft and feel no one will require this new program. However, they're all reasonable people and know nothing should come without some form of satisfaction or money-back guarantee.
For more information about Laugh Staff, Inc. visit http://www.laughstaff.com or email camigo(at)laughstaff(dot)com.
About Laugh Staff, Inc.:
Laugh Staff, Inc. was founded in 2012 by a team of comedians and writers in Cleveland, Ohio. Laugh Staff helps their clients with best man speeches as well as providing best man speech examples on their blog. They assist best men and maids of honor in speech-editing, speech writing, and provide training on speech delivery. Recognizing the importance of the big day, Laugh Staff's professional comedians work with best men and maids of honor to ensure they make a lasting impression.