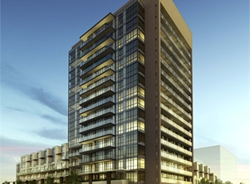 One of the first high-rise residential buildings in Canada to provide full Geo-thermal heating and cooling to the entire building.
Burlington, ON (PRWEB) January 13, 2014
LJM Developments, led by Mr. Liaquat Mian, and Davies Smith Developments partnered to bring Uptown Burlington a quality living space, modern amenities, an eco-centered yet chic design with tenants occupying their Ironstone Condominiums in September 2013.
Burlington, named one of the best places to live in Canada and the best mid-sized city in which to live, makes the Ironstone development a great addition for families in an urban neighbourhood with a penchant for living green.
As one of the first high-rise residential buildings in Canada to provide full Geo-thermal heating and cooling to the entire building, it was an eco-forward design that caught the attention of media and environmentally conscious homeowners. For the next 20 - 30 years residents can enjoy a stable and sustainable heating and cooling expense, while avoiding market fluctuations of oil and gas.
Other green initiatives included a 1,500 square foot rooftop courtyard, expertly landscaped and designed for outdoor living. This amazing green space has allowed residents to enjoy urban living with their own outdoor space that feels worlds away. With outdoor kitchen facilities, dining and lounging areas and even an outdoor hot tub, residents have agreed their own private rooftop park has provided remarkable value and a green alternative to the traditional black-top roof.
A host of other green initiatives include water conservation through low flow faucets and toilets, auxiliary solar elements, a dedicated room for recycling sorting, and secure bicycle parking. Even throughout construction, Ironstone Condominiums' development team employed green construction practices by utilizing building materials with recycled content and waste management reduction procedures during construction.
Residents expound the virtues of Ironstone Condominiums simply as "a wonderful place we can call home" says Rhys, a current resident.
As a premiere urban home with amazing green living space and great amenities in the heart of uptown Burlington, Ironstone Condominiums have become a beacon of excellence for other real estate developers. "Challenging the status quo is what we aim to do at LJM Developments" says Mr. Mian, founder of LJM, and true to his word, Ironstone has delivered.
About LJM Developments
With over a decade of unsurpassed excellence, LJM Developments is a recognized industry leader in real estate development. The company has developed highly-acclaimed signature projects that are a perfect synergy of world class architectural design and cutting-edge construction quality. The company has launched key initiatives in Southern Ontario, including Toronto, Burlington, and Grimsby.
For more information about Ironstone Condominiums, please visit http://www.ironstonecondominiums.com/
####
If you would like more information about this topic or need to make further press inquiries, please contact LJM Developments at 289-245-1900 or e-mail: info@ljmdevelopments.ca