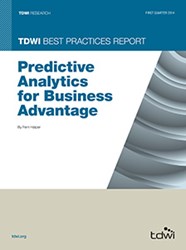 Organizations today want to be predictive. They want insight from data to predict patterns and trends, anticipate events, spot anomalies, and learn about changes in customer behavior so they can take actions that lead to better business outcomes.
Seattle, WA (PRWEB) January 10, 2014
TDWI Research announced the release of its newest Best Practices Report, Predictive Analytics for Business Advantage. This original, survey-based research focuses on the factors driving organizations to use predictive analytics, discusses their experiences with the technology, and provides best practices for using predictive analytics to maximize business advantage.
As report author Fern Halper explains, "Predictive analytics is fast becoming a decisive advantage for achieving a range of desired business outcomes, including higher customer profitability, stickier websites, and more efficient and effective operations. Predictive analytics involves methods and technologies for organizations to spot patterns and trends in data, test large numbers of variables, develop and score models, and mine data for unexpected insights."
This report notes that "to compete effectively in an era in which advantages are ephemeral, companies need to move beyond historical, rearview understandings of business performance and customer behavior and become more proactive. Organizations today want to be predictive; they want to gain information and insight from data that enables them to predict patterns and trends, anticipate events, spot anomalies, forecast using what-if simulations, and learn of changes in customer behavior so that staff can take actions that lead to desired business outcomes."
The report provides in-depth survey analysis of current strategies and future trends for predictive analytics across both organizational and technical dimensions including organizational culture, infrastructure, data, and processes. It looks at the features and functionalities companies are using for predictive analytics and the infrastructure trends in this space.

In addition, the report offers recommendations and best practices for successfully implementing predictive analytics in the organization. Given the shift occurring in the predictive analytics user base, the technology is no longer restricted to statisticians and mathematicians. Furthermore, the report examines the characteristics of companies that have actually measured either top-line or bottom-line impact with predictive analytics and compares the results with companies that haven't measured value.
The report also discusses:

Adoption and use cases for predictive analytics
What kind of data is being used now and is expected to be used within three years
The challenges and barriers to adoption
The user skills necessary to build predictive models
The top tools, techniques, and processes organizations are using in their predictive analytics work
This research was sponsored by Actuate, Alteryx, Pentaho, SAP, and Tableau Software.
About the Author
Fern Halper is director of TDWI Research for advanced analytics, focusing on predictive analytics, social media analysis, text analytics, cloud computing, and other "big data" analytics approaches. She has more than 20 years of experience in data and business analysis, and has published numerous articles on data mining and information technology. Halper is co-author of "Dummies" books on cloud computing, hybrid cloud, service-oriented architecture, and service management, and big data. She has been a partner at industry analyst firm Hurwitz & Associates and a lead analyst for Bell Labs. Her Ph.D. is from Texas A&M University. You can reach her at fhalper@tdwi.org, or follow her on Twitter: @fhalper.
About TDWI
TDWI, a division of 1105 Media, Inc., is the premier provider of in-depth, high-quality education and research in the business intelligence and data warehousing industry. TDWI is dedicated to educating business and information technology professionals about the best practices, strategies, techniques, and tools required to successfully design, build, maintain, and enhance business intelligence and data warehousing solutions. TDWI also fosters the advancement of business intelligence and data warehousing research and contributes to knowledge transfer and the professional development of its members. TDWI offers a worldwide membership program, five major educational conferences, topical educational seminars, role-based training, on-site courses, certification, solution provider partnerships, an awards program for best practices, live Webinars, resourceful publications, and an in-depth research program. For more information, visit tdwi.org or follow us on Twitter @TDWI.
About 1105 Media
1105 Media, Inc., is a leading provider of integrated information and media in targeted business-to-business markets, including specialized sectors of the information technology community; industrial health, safety, and compliance; security; environmental protection; and home healthcare. 1105's offerings span print and online magazines, journals, and newsletters; seminars, conferences, and trade shows; training courseware; and Web-based services. 1105 Media is based in Chatsworth, CA, with offices throughout the United States.
###
Media Contact
Fern Halper, TDWI
fhalper(at)tdwi(dot)org | 978.443.0504