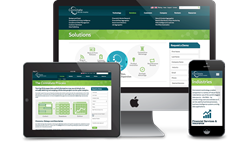 The website was redesigned from the ground up and developed in a responsive format...
Bethlehem, Pa. (PRWEB) January 16, 2014
Metter Interactive, a digital marketing agency specializing in Webcentric strategy, creative, technology, and user-experience solutions, today announced the agency has won a Best Mobile Website award in Web Marketing Association's 2013 MobileWebAward Competition. The entry was selected in the Best Application Service Provider category.
The Lehigh Valley, PA-based digital agency, received the award for their entry of connotate.com, the primary website of Connotate, Inc., a provider of Web data extraction, collection, and monitoring solutions.
"The website was redesigned from the ground up and developed in a responsive format," said David Snyder, vice president of account strategy and U/X+D. "No matter which device a user is on, the experience will be consistent with the client's intended messaging, look and feel."
The responsive format was chosen after an evaluation of web analytics revealed an increased number of users accessing the website from a mobile device. The mobile user experience differed from the desktop, and the mobile site design addressed behaviors unique to mobile devices. After launch, the mobile site produced an immediate increase in engagement from mobile users, and an overall mobile traffic increase of 27%.
The MobileWebAwards Competition was developed by the Web Marketing Association to honor excellence in mobile websites and apps, recognize the individuals and organizations responsible, and showcase the best in award winning mobile development. The Web Marketing Association was founded in 1997 to help set a high standard for Internet marketing and development of the best websites on the World Wide Web.
To learn more about Metter Interactive's award winning mobile design and development work for Connotate, Inc., visit http://www.metterinteractive.com/work or call Metter Interactive 610-419-4510. To view the award visit http://www.mobile-webaward.org/mwa/winner.asp?eid=6343.
About Metter Interactive
Metter Interactive is a digital marketing agency specializing in WebCentric marketing solutions. We deliver stronger, more visible brands through strategy, creative, technology, and experience focused on engaging users and driving measurable results. Headquartered in Bethlehem, PA, Metter Interactive is located between Philadelphia and New York City and services clients in business-to-business, technology, and other challenging markets. We generate ROI for our clients through development and delivery of branding, content, usability, design, and digital marketing strategies that put them in front of buyers at the right time with the right message.