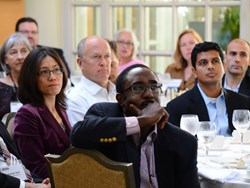 (PRWEB) January 12, 2014
The Stable Value Investment Association has made available another issue of Stable Times, its biannual newsletter discussing the retirement industry and stable value. This latest edition wraps up 2013 by focusing on the major economic, investment, and regulatory issues facing defined contribution plans.
Highlights in this issue include a discussion with former Senator Chris Dodd describing his work on financial services reform, the Dodd-Frank Wall Street Reform and Consumer Protection Act, which was spurred by the worst financial crisis since the Great Depression. Stig Nybo, co-author of Transform Tomorrow: Awakening the Super Saver in Pursuit of Retirement Readiness, is featured in an article advocating a national movement on retirement readiness.
Other topics covered include an evaluation of current fiduciary risks, an economic outlook, trends in defined contribution plans, and the 2014 and 2016 elections.
This latest issue can be found on the SVIA website, stablevalue.org.