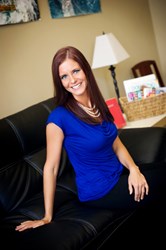 Take a Look at Chiropractic Care for Your Kids
Memphis, TN (PRWEB) January 14, 2014
Memphis Chiropractor Lindsey Carr has recently announced that she works with pediatric patients in her practice.
Chiropractic care is currently utilized by about eight percent of the United States population. The majority of those patients are adults, but a growing number of parents are choosing chiropractic care for their children as well. Doctor Carr and her team at Midtown Chiropractic are happy to work with families including children and infants.
When contacted at her office, Memphis Chiropractor Lindsey Carr said, "At one time I suffered from migraine headaches. Chiropractic care was the answer for me, and today it is my career. What I know today is that children and infants can benefit from chiropractic care just as much as adults can. In fact children often respond the fastest to care because they have not had time for their issues to become chronic."
Doctor Carr added, "There is a lot of misinformation out there about what chiropractic is, and how it's performed. Many people have an idea that chiropractic adjustments are forceful and not right for a child. This line of thinking leaves many children and young adults suffering with conditions that could be helped by natural chiropractic care."
Finally, Doctor Carr said, "My team and I work hard each week to spread the message of what chiropractic care is all about. We are available to do workshops and our new website is a great way to learn more about all the benefits of care. There are thousands of people in Memphis that would benefit from care. We will continue to work to reach as many as we can."
Doctor Carr is certified in Webster Technique for pregnant women as well as pediatric certified. She and her team are available to answer questions that you might have about pediatric chiropractic. You can also visit the new website at the following address: http://www.mymemphischiropractor.com.