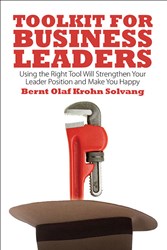 This is the book you need to keep your clients happy.
(PRWEB) January 17, 2014
Don't throw a wrench into business plans! Using the right tool for the right job is vitally important when it comes to industrial sales, negotiations, developing a reward system, building an early warning system for changes in the marketplace, and further developing the reason why your company was founded.
Knowing when and how to use the correct tool will strengthen leadership skills and lead to successful business practices. Toolkit for Business Leaders provides sensible advice that will allow one to handle such challenges as team building, strategy planning, and customer needs.
Business leaders require quick and easy access to helpful tools. Need help finding the right tools at the right moment? "Toolkit for Business Leaders" is the book to help keep clients happy. As the authors says, "And if your clients are happy, you'll be happy too!"
Watch the video at: http://www.youtube.com/watch?v=rj3L8mtaHeQ.
Toolkit for Business Leaders: Using the Right Tool Will Strengthen Your Leadership Position and Make You Happy (ISBN: 978-1-62212-339-1) is now available for $23.00 and can be ordered through the publisher's website: http://sbpra.com/BerntOlafKrohnSolvang or at www(dot)amazon(dot)com or www(dot)barnesandnoble(dot)com.
Wholesalers: This book is distributed by Ingram Books and other wholesale distributors. Contact your representative with the ISBN for purchase. Wholesale purchase for retailers, universities, libraries, and other organizations is also available through the publisher; please email bookorder(at)aeg-online-store(dot)com.
About the Author:
Bernt Olaf Krohn Solvang is a professor emeritus at University of Agder, Kristiansand, Norway. One of his main subjects was business development.
Strategic Book Publishing and Rights Co, LLC