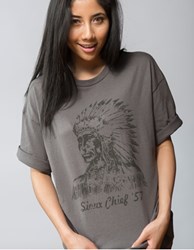 Kansas City, Missouri (PRWEB) January 14, 2014
Rough plumbing manufacturer, Sioux Chief, announced its new online store, The Bunker, which enables plumbing professionals to purchase apparel and other gear from the top American plumbing manufacturer.
To introduce the new store, Sioux Chief is offering 25% off all orders by using the Promo Code: 'January25'. Visit SiouxChiefStore.com and order by January 31 to get the discount.
The Bunker features Sioux Chief branded apparel, merchandise, hats and more, targeted for those who work in the plumbing industry. The Bunker offers easy-to-order functionality with delivery in just a few days.
Apparel items include professional polos, hats and tee shirts, for both men and women. Merchandise items such as: grilling spatulas, playing cards, drink-ware, Mag-Lite Solatire flashlights and coasters are stocked and ready.
New items will be added to SiouxChiefStore.com regularly, so patrons are urged to check back often for updates and new additions.
Take the Field with Sioux Chief Originals!
More About Sioux Chief:
Since 1957, Sioux Chief has manufactured innovative plumbing products. It is a leader in providing rough plumbing solutions for residential, commercial, industrial and government applications. Sioux Chief's comprehensive product line is comprised of three core groups: Supply, Drainage and Support. Sioux Chief products are sold to qualified wholesale distributors and retailers worldwide. The company is headquartered in Peculiar, Missouri — just outside of Kansas City. For more information, please call 1-800-821-3944.
Contact Information:
24110 South Peculiar Drive
Peculiar, MO 64078
1-800-821-3944