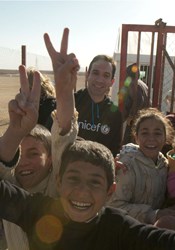 New York, NY (PRWEB) January 13, 2014
The U.S. Fund for UNICEF today announced the appointment of Jose Carbonell as Senior Vice President of Marketing and Communications. Leading a team of 34 people across six departments, Carbonell is responsible for the U.S. Fund for UNICEF's brand, marketing and communications strategies.
In his new role, Carbonell will focus on growing the U.S. Fund for UNICEF brand through digital and social media to keep it accessible for today's youth and their families.
"It is with great excitement that we welcome Jose to the U.S. Fund for UNICEF family," said Caryl Stern, President and CEO of the U.S. Fund for UNICEF. "We are confident that he will bring both strategic and creative ideas that will be a tremendous asset to our cause."
Carbonell has more than 17 years of marketing experience. Most recently, Carbonell served as the Vice President of Marketing & Strategic Planning at Nickelodeon (a division of Viacom). At Nickelodeon, he led several cause-marketing initiatives, working with the Children's Defense Fund, the PTA, and USA Gymnastics. He also championed marketing efforts for Nickelodeon's highest profile shows including Dora The Explorer, SpongeBob Squarepants, Teenage Mutant Ninja Turtles, and Peter Rabbit.
"It is a great opportunity to work for an organization whose mission it is to save children's lives," said Carbonell. "I believe my experience with building iconic brands will lend well to my new role at the U.S. Fund for UNICEF – itself an iconic brand to which people have deep emotional connection. I look forward to engaging UNICEF supporters, both new and old, and furthering the mission of child survival."
Prior to Nickelodeon, Carbonell held various marketing roles at Kraft Foods, Welch's, Hartz Mountain, Reckitt Benckiser, and Toys"R"Us. He received his undergraduate degree from Duke University and his MBA from the Kellogg School of Management.
Carbonell grew up in Mexico, Venezuela and England before moving to the United States in the early 80s. In addition to living abroad, he has traveled extensively (e.g., Egypt, South Africa, Australia, Europe, and Latin America.)
About UNICEF
The United Nations Children's Fund (UNICEF) works in more than 190 countries and territories to save and improve children's lives, providing health care and immunizations, clean water and sanitation, nutrition, education, emergency relief and more. The U.S. Fund for UNICEF supports UNICEF's work through fundraising, advocacy, and education in the United States. Together, we are working toward the day when zero children die from preventable causes and every child has a safe and healthy childhood. For more information, visit http://www.unicefusa.org.