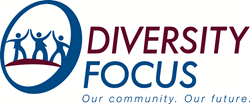 Cedar Rapids, Iowa (PRWEB) January 14, 2014
We plan to make 2014 a pro-active year, targeting issues of diversity that will make the Creative Corridor a better place for people to live and work. We hope you will consider publishing our newest statement of purpose, which will help clarify our aim to the public. The following is an excerpt of that statement:
"Embracing diversity means more than being aware of the changing demographics in our region or having to learn everything about every culture. Diversity is about accepting where you're at in this moment and deciding to take the journey to grow with others. It is about having a willingness to embrace new people into your circles with a warm heart, seek to understand their needs first and help them identify how they can reach their goals and dreams. Diversity Focus will be the trusted source that connects people to their tribes and encourages this journey."
All media outlets have the consent of Diversity Focus to publish the statement IN FULL. Please visit http://www.diversityfocus.org/diversity-focus-2014-statement-of-purpose/ for the full statement.
-more-
Diversity Focus was established in 2005 as a non-profit organization devoted to enhancing the diversity of the Cedar Rapids - Iowa City corridor.
Diversity Focus Vision: Diversity is the crucial link to economic, cultural, academic, and technological success. Diversity Focus' vision is that the Corridor community be the model of inclusion that values, nurtures, attracts, and retains people of diverse backgrounds, cultures and beliefs.
For more information about Diversity Focus, please visit http://www.diversityfocus.org.
###