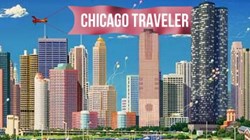 There are so many ways to enjoy the city without freezing, like going to the theatre, a Chicago Bulls game, or even an indoor tour.
Chicago, IL (PRWEB) January 21, 2014
Chicago in the winter can be cold, but that doesn't mean there aren't incredible ways to enjoy the Windy City without losing finger feeling. Today, the travel editors at ChicagoTraveler.com released a list of the best indoor things to do this winter.
From upcoming shows to indoor tours, there are many indoor activities to make a trip memorable. "Chicago is experiencing some chilly weather right now," says Lindsey Skinner, editor of ChicagoTraveler.com. "But there are so many ways to enjoy the city without freezing, like going to the theatre, a Chicago Bulls game, or even an indoor tour." Here is ChicagoTraveler.com's list of best things to do on cold days.
Indoor Tour - Chicago Detours
Everyone coming to Chicago needs to take a tour, so don't let the cold weather keep the fun from leaving the hotel room. Chicago Detours offers an incredible interior architecture tour, where visitors engage with iPads. Chicago Detours also has an interesting (and fun) historic bar tour, our personal favorite. Explore and learn about prohibition, jazz and theatre, while enjoying tasty Chicago suds!
See a Show
Escape the chilly streets and enjoy a night out to the theater. Broadway in Chicago is currently showing The Phantom of the Opera, Ghost and other favorites. Broadway in Chicago will also be offering Chicago starting February 25th, and many other incredible performances throughout the colder months. Enjoy a night out on the town while still staying warm this winter with Broadway in Chicago.
Cheer on the NBA's Chicago Bulls
Grab the family and head for United Center to enjoy a good old fashion game of basketball. There is nothing more fun to do on a vacation to the Windy City than cheer on the Chicago Bulls, and tickets are available online, so don't miss out. Upcoming games are on January 18th, 20th, 24th and 27th, buy tickets while they are still available.
Escape a Zombie
Trying to figure out what to do for the night? Want major bragging rights for Monday morning in the office? Trapped in a Room with a Zombie gives patrons the excitement of escaping from a zombie! This interactive puzzle allows guests to figure out clues and solve the problems with friends in order to escape the zombie room. Don't get eaten by a zombie this winter in Chicago!
Visit Museums
The area is known for some of the best museums and attractions in the nation, so don't be afraid to venture out and explore all of the attractions that make Chicago so famous. From the Adler Planetarium to Museum of Contemporary Art, Chicago offers amazing options for a museum day. Traveling with kids? Try the Shedd Aquarium and the Children's Museum on Navy Pier. Money saving tip - The Chicago Go Card makes it easy to save & see all the best attractions in Chicago with package deals!
See a Concert
Chi-town always attracts incredible bands, and the next few weeks are no exception. Upcoming concerts include Jake Bugg (January 18), The Fray (January 21), and Patty Griffin (January 31). Get those feet moving and forget the cold weather outside. Check for upcoming concerts and events at http://www.chicagotraveler.com/chicago_events.htm.
Stay warm and have a wonderful winter season in Chicago!