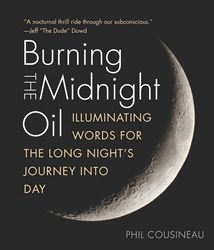 Hop on the Night Express to our Soul, somewhere at the dark end of the station that leads...to the light of life—the secret source. — Jeff "The Dude" Dowd
(PRWEB) January 13, 2014
Phil Cousineau is a freelance writer, filmmaker, photographer, art and literary tour leader, creativity consultant, flâneur, and nyctophiliac, a lifelong lover of the night. Cousineau has published over thirty books, his most recent being Burning the Midnight Oil: Illuminating Words for the Long Night's Journey Into Day.
Phil Cousineau along with Jeff "The Dude" Dowd, the real-life inspiration for The Big Lebowski, were interviewed on NPR's Weekend Edition.
Phil also recently appeared on Sunday Magazine with Liz Saint John to discuss why the nighttime is inspirational to him and how this mysterious time has inspired the works of many writers, artists, musicians and thinkers. He also appeared on KGO with Pay Thurston.
In Burning the Midnight Oil, Phil Cousineau has gathered an eclectic and electric collection of soulful poems and prose from great thinkers throughout the ages. Whether beguiling readers with glorious poetry or consoling them with prayers from fellow restless souls, Cousineau can relieve any insomniac's unease. From St. John of the Cross to Annie Dillard, Beethoven to "The Song of Songs," this refreshingly insightful anthology soothes and inspires all who struggle through the dark of the night. The night writers in Cousineau's vesperal collection range from saints, poets, and shamans to astronomers and naturalists, and tells of ancient tales and shining passages from the most brilliant (albeit insomniac) writers of today. These poetic ponderances sing of the falling darkness, revel in dream-time, convey the ache of melancholy, conspire against sleeplessness, vanquish loneliness, contemplate the night sky, rhapsodize on love, and languorously greet the first rays of dawn.
Join Phil at events around the San Francisco Bay Area:
1/30: Mechanics Institute Library in San Francisco at 6pm
2/6: Books, Inc. Opera Plaza in San Francisco at 7pm
2/20: Mrs. Dalloway's in Berkeley at 7:30pm