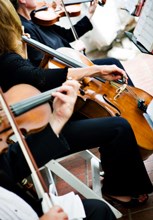 (PRWEB) January 14, 2014
Although Monte Vista Strings and Jazz (MVSJ) has been the leading source for San Antonio - Austin - Texas Hill Country special event music for a decade, they aren't resting on their laurels. MVSJ has added another 100 titles to the already impressive set lists of their Wired! and ROCKTET divisions, which feature popular and contemporary hits from the 1960's to today. Whether a person is searching for San Antonio corporate / special event music, Austin wedding music, or San Antonio string music and entertainment, MVSJ has something for everyone.
"The energy from combining pop music with a string quartet is undeniable. Our clients love it," said Andrew Small, owner of and violinist for MVSJ. "And our expanded set list allows us a versatility that is unparalleled in our area. If a client is looking for a particular sound, we'll work with them to find it. We've performed string quartet wedding music in San Antonio, harp ensemble music in Austin, string trio music in Kerrville, guitar music in New Braunfels, and so much more."
Not only does Monte Vista Strings and Jazz's music selection surpass the competition, the caliber of their performances greatly outmeasures other freelance ensembles. Members of MVSJ are all tenured members of the Austin and/or San Antonio Symphony Orchestras, making their professionalism and skill set irrefutable. That they offer such a wide range of popular/contemporary selections in addition to classical pieces makes them a unique and highly sought-after group.
Popular repertoire runs the gamut from 80s love songs, classic rock and present-day divas to Broadway hits, Latin tangos, and soulful oldies. The music selection includes favorites like "Love Story" by Taylor Swift, "Time After Time" by Cyndi Lauper, "All You Need is Love" by The Beatles, "My Girl" by The Temptations, "Bittersweet Symphony" by The Verve, "Unforgettable" by Natalie and Nat King Cole, "I Gotta Feeling" by The Blackeyed Peas, and so much more.
Experience the music firsthand on MSVJ's YouTube channel, where several new Wired! Quartet high-definition videos have been added. Enjoy the artists' performances of "Firework" by Katy Perry, "A Thousand Years" by Christina Perri, "Paparazzi" by Lady Gaga, "Paradise" by Coldplay, "Crazy in Love" by Beyonce, and "Master of Puppets" by Metallica.
Founded in 2003 by violinist Andrew Small and a trio of colleagues from the San Antonio Symphony, Monte Vista Strings and Jazz has evolved into one of the Austin - San Antonio region's most respected musical performance and entertainment companies. Monte Vista Strings and Jazz stands on the quality of their performers, and explicitly guarantees the professional credentials of every musician on every instrument at every event. For more information, email info(at)montevistastrings(dot)com or visit http://montevistastrings.com.