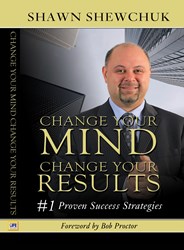 It's all about the Results!"
Calgary, AB (PRWEB) January 14, 2014
People get in their own way. It is mindset, not circumstance that determines success. The strategies wealthy and successful people use are not secrets. We are not taught to think effectively to get extraordinary results. The good news is that success is a skill that can be learned.
"This book is a blueprint mapping a path to achieve anything you want," said Shawn Shewchuk, author of Change Your Mind; Change Your Results. "Every professional and high achiever should be using the strategies taught in this book to prevent wasting time and money. I felt I had to reveal these strategies."
Readers of this book can expect very simple and effective methods to achieve the goals that really matter in their life. The journey begins with exploring how the mind works and why people behave the way they do. People need to know how to effect change before they CAN change. It is the foundation of understanding needed before action is taken.
Change is surprisingly simple though not necessarily easy according to Shewchuk. The power of the mind is either a greatest asset or the biggest barrier to achieving anything a person wants. It is a matter of choice followed by execution. Change Your Mind; Change Your Results is more than a feel good reader. This book provides actionable steps that every person can implement to achieve any result they choose.
"Change Your Mind, Change Your Results will be a resource you can refer to repeatedly to help you discover and achieve what you really want in life. This book will allow you to explore the reasons behind your thoughts and actions which will give you the awareness you need to change your results."

Bob Proctor, Author of You Were Born Rich
Shewchuk's roadmap has transformed the lives and businesses of over 6000 entrepreneurs and executives through his coaching, speaking and programs.
Change Your Mind; Change Your Results retails for $19.95 in paperback or $5.73 on Kindle and is available immediately through Amazon, Barnes & Noble and Chapters/Indigo. Change Your Mind; Change Your Results should be read by any business owner, entrepreneur, CEO or executive who wants to take their business to the next level.
About the Author
Shawn Shewchuk is the #1 Results Coach in the Country, sought after speaker and bestselling author of the book Change Your Mind, Change Your Results. For over 20 years, Shawn has worked with companies and individuals providing opportunities for accelerate and improve results. Change Your Mind, Change Your Results. To learn more, visit http://www.changeyourresults.com.
Change Your Mind; Change Your Results by Shawn Shewhuk
Available Immediately - $19.95 – Soft Cover - ISBN: 978-1-59930-312-3
$5.73 – Kindle – ASIN: B009Z48SWO
Tag Publishing LLC