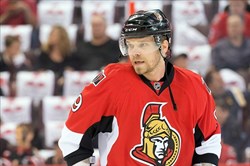 (PRWEB) January 12, 2014
Veteran NHL player Milan Michalek faced a decision after last season ended: surgery to repair his injured knee, or an innovative, non-invasive treatment known as platelet-rich plasma therapy. According to the Ottawa Sun on September 9,2013, Michalek declare himself fit after receiving the innovative therapy. Following the examples set by superstar athletes like Tiger Woods, Kobe Bryant and A-Rod, Michalek chose the latter, traveling to Germany to receive treatment for a week. By September, Michalek told journalists he was "100% and ready to go," and he has played thus far this season without reporting pain or re-injury.
"Such results are not uncommon," says James Hays, CEO of PlasmaGenix, Inc. "And as more and more professional athletes find relief through various forms of regenerative medicine and sing its praises, we're seeing increased interest from athletes of every skill level, as well as from patients with other orthopedic complaints."
Regenerative medicine has the potential to supercharge healing. Through a series of injections of small, concentrated amounts of a patient's own blood into damaged tissue, growth factors can speed healing and often quickly reduces or eliminates pain.
Dr. John Simmonds, an orthopedic surgeon and the Chief Medical Officer of PlasmaGenix, Inc. explains why regenerative medicine has become the treatment of choice for a wide variety of injuries and conditions: "First, before opting for surgery, it's important to explore non-invasive treatments like PRP. Second, although treating injuries and chronic conditions with medications may decrease inflammation and/or pain, such drugs are accompanied by side effects, and are often quite expensive."
PlasmaGenix has developed proprietary processes and treatments that use the power of regenerative medicine to treat joint and tendon pain, ankle sprains, heel pain, and plantar fasciitis. The Institute also uses PRP injections to improve poor circulation, treat diabetic neuropathy and HIV neuropathy.
About PlasmaGenix
PlasmaGenix is a biologics company located in Inglewood, California. Our three lead products, PlasmaNeu, PlasmaGen and PlasmaPro, have been used for over a decade to treat chronic non-healing wounds and preventing amputations in high risk populations, and​ peripheral neuropathy associated with HIV and Diabetes.Science has recently shown that the body has enormous potential to heal itself. Regenerative medicine is an exciting area in medicine that is evolving very rapidly and PlasmaGenix is proud to be at the forefront of developing new therapeutics to treat a wide variety of chronic conditions. We can now deliver products to accelerate the body's own natural healing mechanisms and enrich the body's inherent ability to repair and regenerate.
The culmination of over 3 decades of clinical experience and research gave birth to PlasmaGenix which is poised to be a leader in the field of regenerative medicine. To date, PlasmaGenix has successfully treated over 10,000 patients for various neurologic conditions, chronic non-healing wounds, sports related injures as well as muscular sclerosis and Charcot-Marie Tooth disease.