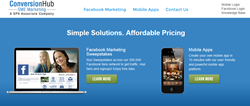 Singapore,Singapore (PRWEB) January 13, 2014
Conversion Hub Marketing, a social media and mobile app company targeting small businesses, has announced the launch of two new services. Both are simple solutions for small business customers and are available at affordable prices. These services are tailored to the needs for making the most of social media and mobile apps.
Firstly, the social media marketing agency has introduced its Facebook Sweepstakes service offering. The service provides the opportunity to be part of the agency's 300,000 fan network. This, according to the company, guarantees likes on the customer's business page and encourages people to participate. It also allows clients to capture contact information of other businesses and use it for remarketing.
The sweepstakes service saves businesses time in developing campaigns, the cost of running a marketing campaign online, and the time to develop a custom application. It also avoids the time spent running a Facebook page independently. Clients also avoid the costs of running ads on their own.
In addition, Conversion Hub Marketing has launched a mobile app and mobile website creator. It provides small businesses with a tool for developing apps online or on a mobile device. Apps can be previewed online and designed using the agency's content management system. Hosted on the company's servers, the apps can be customized or made using pre-built designs. The platform supports iPhone, iPad, Android, and HTML5.
A range of app development resources are provided for members on the agency's website. Secure password authentication is required to log in. There is also a "Customized Setup" section where customers can set up tabs for images, testimonials, Facebook, "About Us", and other items. The agency also offers an online banner creator, client worksheets, and page demos and samples. A complete support system and knowledgebase are featured online as well.
More details on Conversion Hub Marketing and the Facebook Sweepstakes and mobile app development system the social media marketing agency now offers are available at http://www.chm.conversion-hub.com.
About Conversion Hub Marketing
Conversion Hub Marketing is a social media marketing agency that offers various packages to small business looking to promote on Facebook. An SPH Associate Company, it has also introduced a mobile app development system with tools for app design, editing, and management on mobile devices. The company has won several Independent Business Consultant awards.
###