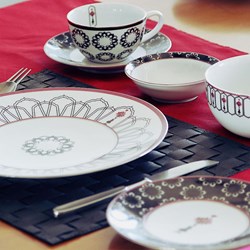 (PRWEB) January 11, 2014
This month, IndiaCircus, the home-décor, lifestyle and personal accessories label, headed by the brilliant Krsna Mehta, is pleased to announce the launch of exciting new collections in Premium Crockery, table lamps and wall art.
Hosting a dinner at home just became a fine dining experience with the latest 'Stars of the Nawab'premium crockery collection. This sophisticated collection comprises of an entire dinner set which includes rice platters, charger platters, dinner plates, bowls, tea cups and coffee mugs.
The 'Stars of the Nawab' crockery set also stands out with its exquisite patterns and design which is a contemporary take on traditional Indian designs. With its intricate detailing in a combination of black, white and pale pink, this crockery set certainly makes dining a special experience.
Focus on lighting this season with the latest range of table lamps. These lamps are characterized by unique geometric and floral patterns and are chic and elegant. With eclectic designs and patterns, these lamps are definitely unique and dynamic.
Wall décor just became more irresistible with the new range of wall art. These pieces of art have beautiful and stunning visual imagery ranging from tigers, palaces and a bygone Mughal era. However, these works come with a contemporary twist. Each piece has lush colours and vivid designs which can easily transport imagination to faraway lands.
IndiaCircus is a design house which believes in attention to detail. Each thing that we design has to be something unique and precious. It is this design ideology that makes every product of India Circus a true pride and pleasure to own. For more details log onto in indiacircus.com